I love the Christmas season! So as tradition we don't put up our tree until the day after Thanksgiving. And for me that's too long to wait. It would have been up before halloween if it were up to me. But I like that fact that we have a special day that we put up all our decorations as a family.
I happened to have a tree from last year... then a few month ago I also inherited a tree from my aunt. Both fake. One with colored lights one with white lights. But I happened to my mention to my dear sweet husband that I liked the look of an all white tree with the red/white/silver color scheme I wanted this year. And he went out and bought me one even though I told him many times to save the money when we had 2 perfectly good trees to choose from. Bless his heart he never listens to me. But seeing as we had a new white tree we needed new ornaments.
We went to Walmart and I am thinking of course of my red/white/silver snowflakes and icicle tree in my head when lo and behold Jr decides he wants a blue theme. Since when does he want to have an opinion around here? I am thinking "When I want your opinion I will give it to you"... but he fought me on it. My Mom has always done blue and silver so I am kinda all blued out ya know? But he went on and on about how he wanted it to be different and not traditional red or green.
Bah Humbug!
So I suggested if he wanted to be different then he should give me the pink tree I haave wanted for years. And I found pink ornaments. Well since we couldn't decide I took the kids on a walk through the toy aisle and he came back with a box of pink ornaments, a box of teal ornaments and a set of purple high heeled ornaments. I about died! Not only did he compromise but he found purple heels! Purple heels have a lot of meaning for us but long story short my Mom was buried in purple high heels. Needless to say I was ecstatic! And since we couldn't on tree toppers either, I love stars and ONLY stars, and he likes the Angels but I think they look creepy... I found a large purple snowflake ornament with a photo opening and snuck it into the cart. When we the firs thing I did was print a picture of my Mom and stuck it in there.
And the festivities began...
The Hubby putting up the tree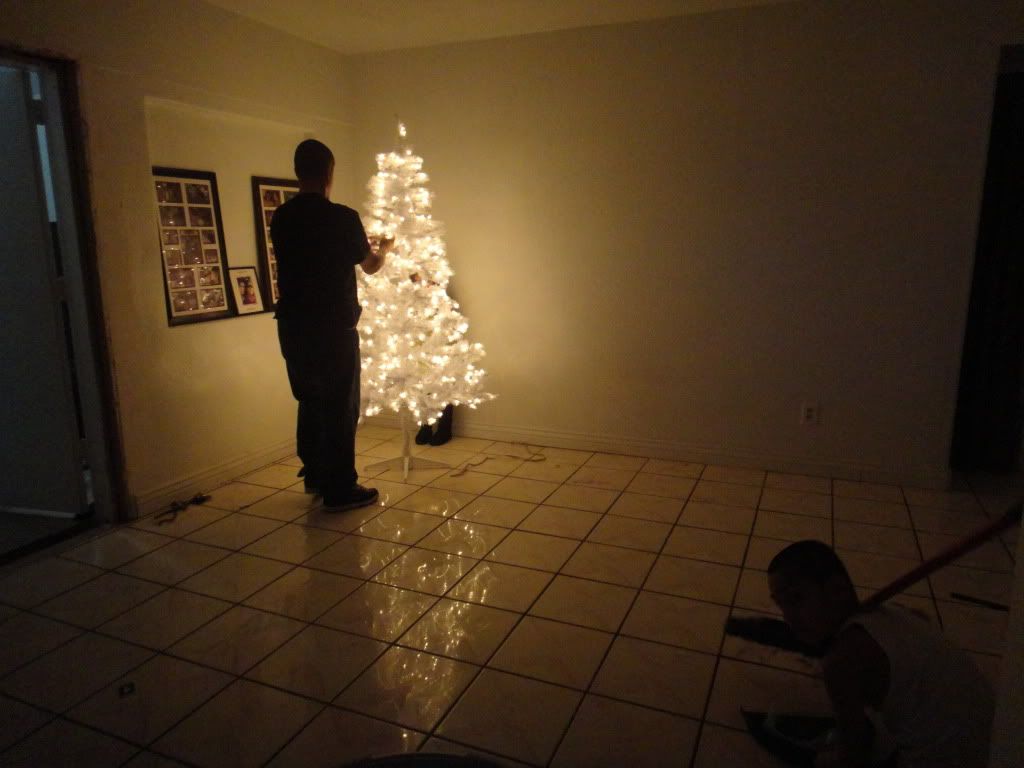 width="500" />
And the kids had a ball (no pun intended) putting all the ornaments on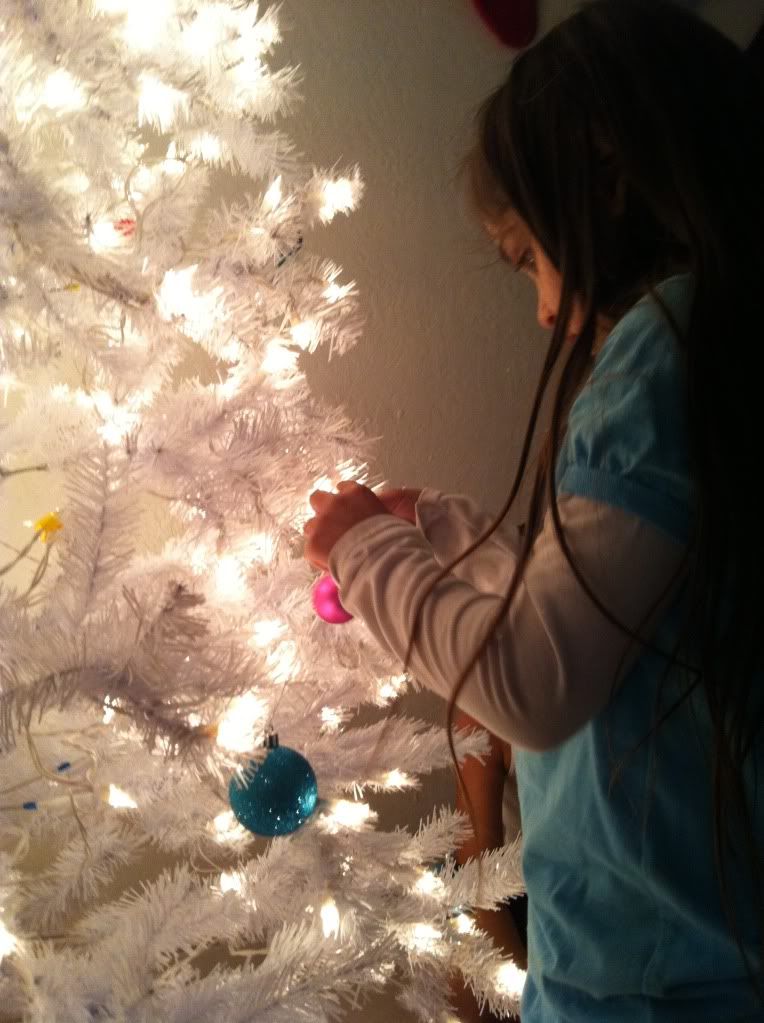 And Atalie had fun just staring at it...
And then it was complete and we were happy!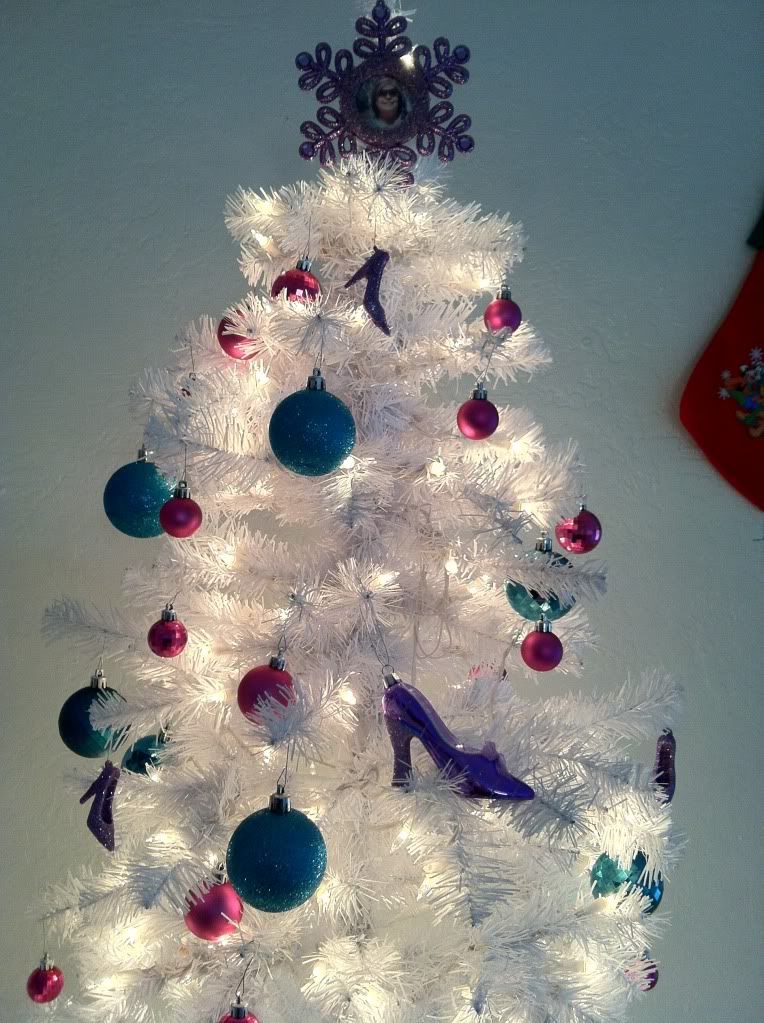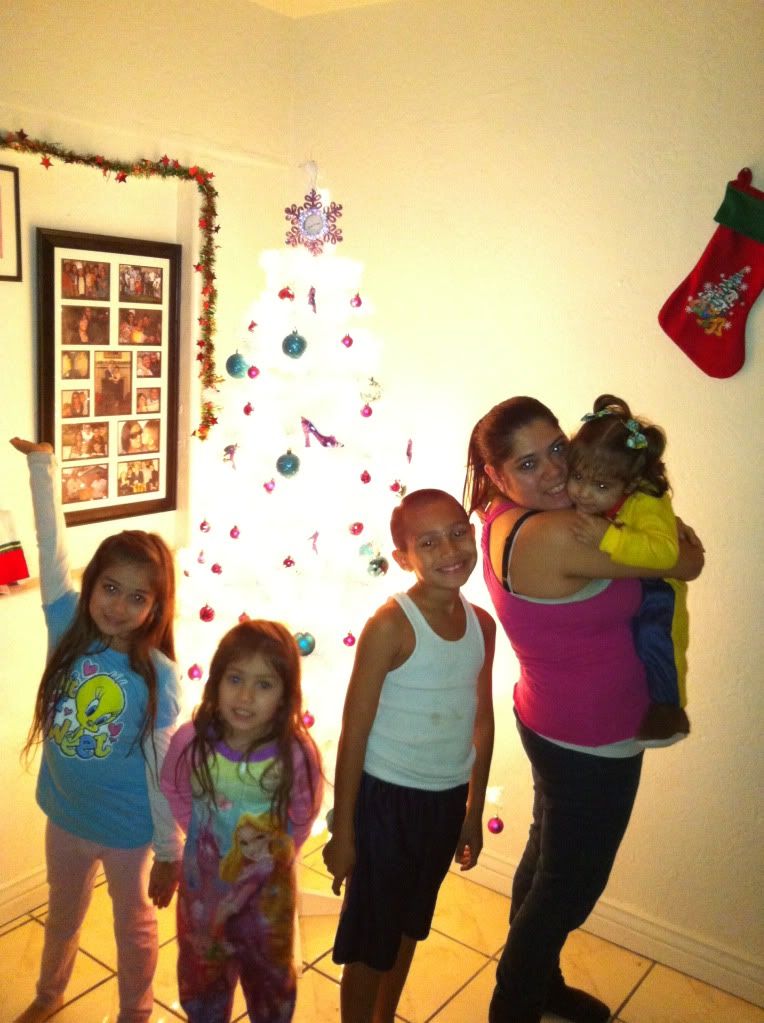 And lastly we hung up the stocking after decorating all the other walls.
And lastly we hung up our lists... in hopes that some of these things Santa will be kind enough to bring us!