Saturday morning with anxiousness we were up bright and early! We wanted to be at Sea World before they even opened. Jen told us that she heard in order to see the new show Blue Horizons you had to get a wristband for a certain time. And once they were all given out there would be no more. And we wanted to make sure we saw the show. After getting in and buying our meal tickets we were given wristbands for the very first showing of Blue Horizons at 10:30am.
*Note - The meal ticket is the best idea ever. $30 for an adult and $15 for a child and you can eat at any participating restraunt all day long. Each time through the line gets you one entree, one side or dessert, and 1 drink. And you can go through the line as many times as you wanted. We seriously ate all day long. And came home with tons of the souvenir kids plates and cups. Well worth the money.
So after a realy good breakfast we headed off to watch our first show.
Being that it was overcast there was no way I wanted to sit in the soak zone so we went up to find some seats.
Blue Horizons is the brand new dolphin show. It was so cool. I loved it. The dolphins are so cute and it's so awesome seeing the people in there dancing and swimming with the dolphins.
Even though we didn't sit in the soak zone... my mother-in-law and newphews DID sit there...
The Shark Encounter was next on the list. That was my first experience seeing the animals up close. I was seriously like a little kid.
We saw the Starfish!
And we got on our first ride... the Rapids! My Layna was FINALLY tall enough to get on a ride. Ducky too! This has been the first time at any amusement park that they're finally tall enough.
And then it time to meet back up with my brother who had taken Arielle and Juanito so that Jen and I could take the older kids on the ride. And we found him like this...
Arielle and Alayna were happy to be re-united again
Posing for a picture with my girls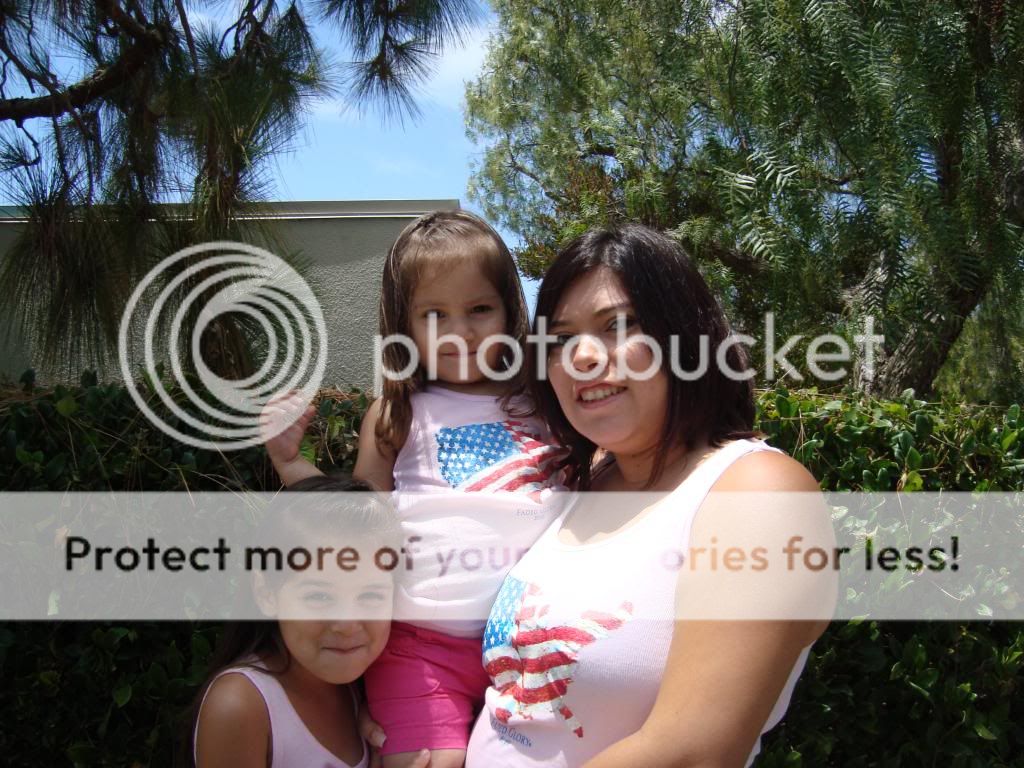 And then it was time for our next show. Shamu! By this time the sun had finally peeked out to play and we waited.
Believe wasn't as impressive as the dolphin show. I loved seeing Shamu and how big he was! But due to the recent incident in Florida with a whale... the trainers are not even allowed in the water with them anymore. But oh well.
Then it was lunch time. And we were all starved.
Shamu Cookie!
Even Juanito's dolphin was hungry... he kept trying to steal Jen's salad!
And Jen got chocolate wasted!
Then the kids stopped to pose for me for a bit... just a bit though.
The rest of the afternoon was spent riding Journey to Atlantis a million times in a row. Hence no pictures. I wasn't getting the camera wet. And we really did ride it at least a million times in a row. My in-laws foster son is autistic... and so we got to just go straight up to the front through the handicapped line. It was awesome.
Then we had dinner and more dinner and more dinner. Seriously we ate like there was no tomorrow.
And we watched the Sea Lion show. By far my favorite show! I guess it's different during the day but we went at night at it was hilarious! I totally loved it! And none of the shows really held any of the kids attentions except that one. I never saw it during the day to tell you what the difference is but from everyone who has seen it before they said the night show is better.
We also watched the night Shamu show. It was a little better at night then during the day. Plus we had a perfect view of the fireworks show as soon as it was over. And all the kids were asleep by the end. So we decided to call it a night.
My first day at Sea World and it was amazing.