Today was Alayna's last day of ballet. Next week is dress rehearsal and the recital. We're still undecided if you we'll put her in for a 6 week course or just wait until the fall for another 12 week course so she can be in another recital. Part of me doesn't want to take her out. She really likes it. More than I thought she ever would. And it's helped her to get over her fear of being in front of other people, she's made friends when before she'd NEVER play with any other kids, and her confidence is higher. Not only that... but she also has learned that she CAN be away from me for a little while and the world will NOT come to an end. I mean of course I am only in the next room but still. Before ballet that NEVER would have happened with her. In 12 weeks she's become a different girl. It's kinda great to see her come out of her shell.
So on her very first day, she clung to me like velcro, she cried, she didn't want to participate, and definitely would not dance in front of anyone. Well since today was the last class for this session, parents and family members were invited to sit in class as they demonstrated everything they learned stretches, ballet, tap, and they also performed their routine for the recital next week. At first when we walked in and all the parents were sitting in the room I though Alayna was going to run to me and not want to dance. But she slowly tiptoed her way to her spot, and to my surprise she performed the whole 45 minutes like no one was watching. At that moment I was so proud for what she accomplished! It may not seem like a big deal but if you know Alayna... then you know it's out of character for her to be so independent, confident, and outgoing. It's awesome to see the look on her face when she leaves class so proud of herself for trying so hard. She doesn't have to be perfect but the fact that she's trying and having fun is all that matters!
My little ballerina... my pride and joy... Showing off her dance moves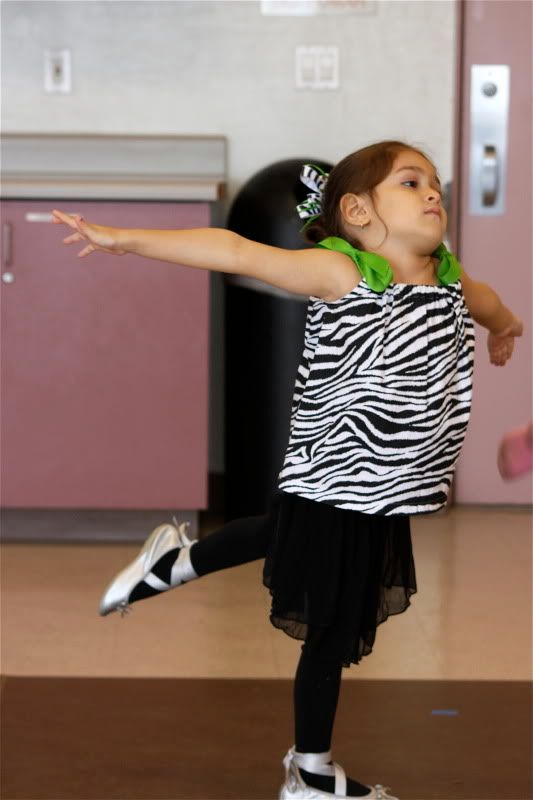 After they finished they had a little mini party... everyone brought treats to pass out. Alayna loved that part!
And last but not least... here's a video of her in practicing her routine for the recital!