The party that started out as a Wizard of Oz theme... didn't quite happen. You see this summer Alayna has learned about the Wizard of Oz and being that it's always been one of my favorites as a child we talked about it a lot. So when it came time for me to start planning her birthday party I asked her if she wanted Lalaloopsy or Wizard of Oz. I think with the hype she chose Wizard of Oz. Unfortunately I didn't get a jump start on her party like I usually do because the summer has been crazy busy. But with my sister's help I did put together the MOST ADORABLE Wizard of Oz invitations and we delivered them.
And 3 days before her party she tells me, "Mommy I really wish I was having a Lalaloopsy birthday..."
I was like, "Child you couldn't have told me that a long time ago?!"
But since I only had a couple things for her party and nothing major my sister kinda convinced me to just change the theme to what she actually wanted. So against my OCD self when it comes to planning (you know I have to have plenty of time to have the whole party mapped out in my head and go over every detail for weeks in advance)I changed the theme and she was one happy girl.
So in one day I had to run around and buy everything for her party and luckily my sister was able to do all the design work for me and have it all printed. And my son and I ran all over town looking for the dolls she wanted as her gift. AND not only that but in one of our pit stops that day, my husband and I were walking through the Lalaloopsy section at Target (we were kidless) and he found a "Jewel Sparkles" dress on clearance for $14! So he bought it. But when we got home we had a very sad younger sister Arielle because she is JUST as obsessed with the dolls as Alayna. And Daddy said another trip to Target was in order. So off we went to buy a "Crumbs Sugar Cookie" dress. And when I got home I was so excited and the girls tried on their dresses with the tights and shoes... and in walks my baby Tal. And she was fascinated that her older sisters looked just like the dolls she plays with everyday. And that's when I turned to Daddy and stuck out my lip and said... "Baby needs a dress too." By this time it was so late that Target was closed. So we jumped in the car a 3rd time and drove to Walmart for the "Mittens Fluff N Stuff" dress and had them price match it.
Oh the things I do for my girls. And the things my Husband does for us!(Don't worry Diego wasn't left out... he got a wrestler!)
So well into the night I was up cleaning, baking, decorating, and wrapping. But like I always say... it was worth it to see my baby girl with pure happiness. She got exactly what she wanted.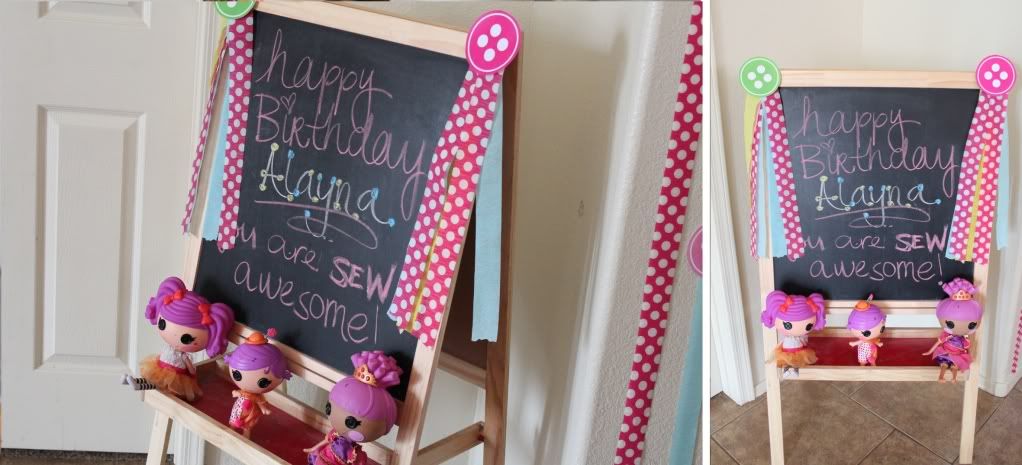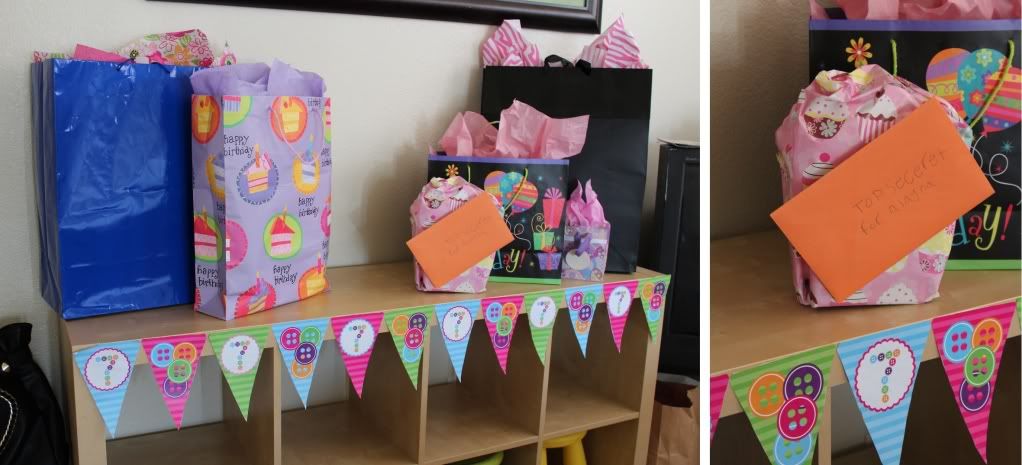 Alayna is my crafty child. She loves anything to do with drawing, coloring, and being creative. So I set up a craft station for the girls to make their own Lalaloopsy doll. It was a "naked" doll and I set out crayons, pipe cleaners, foam stickers, and poms for them to use.
As guests started to arrive we took pictures in front of my decorated wall.
Alayna & Her Nina
Fernanda
Emma
Laila
Julia
Mia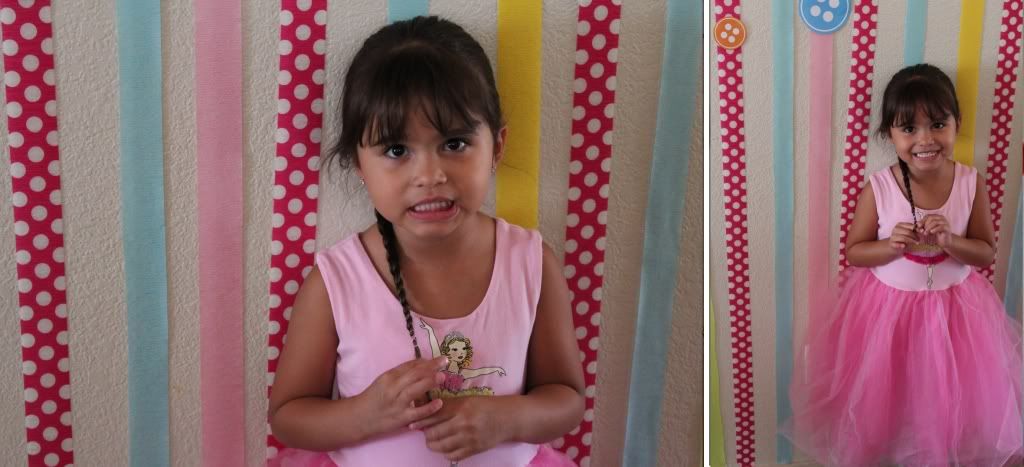 Karla
Birthday Girl Alayna Danae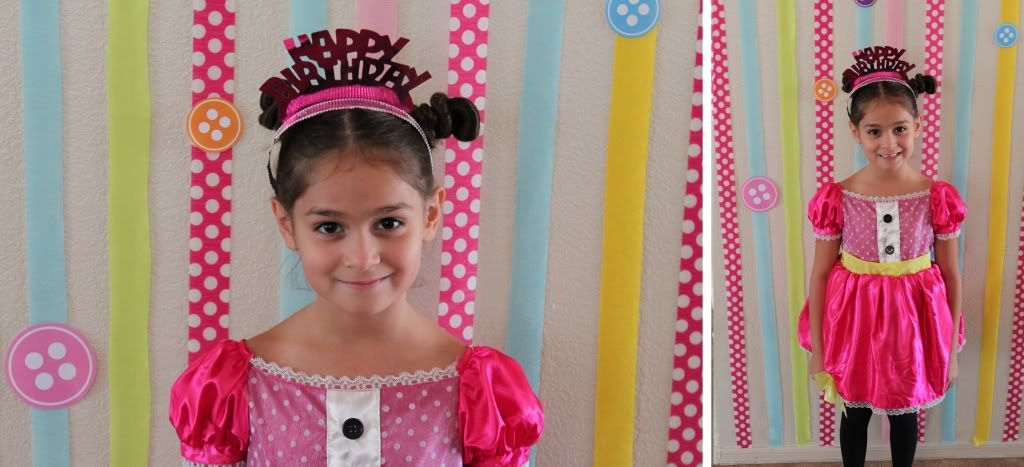 Baby Sister Atalie Belle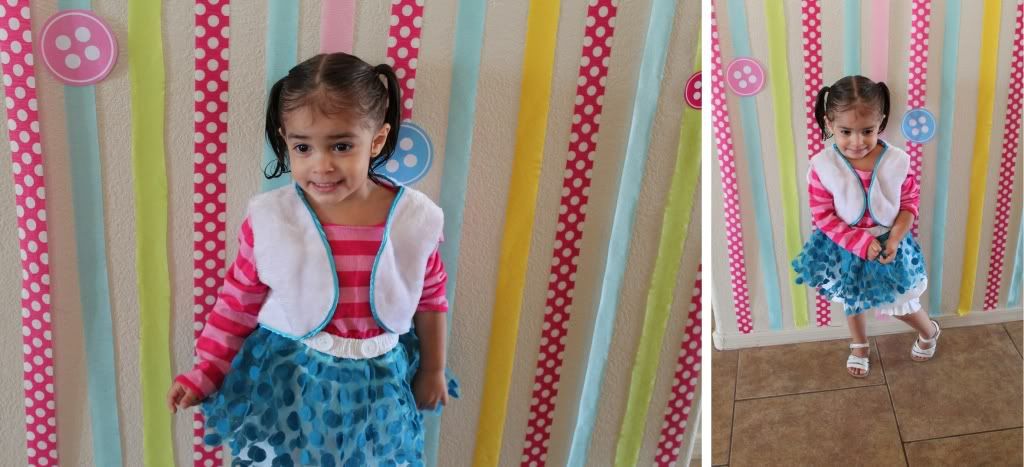 My 3 Lalaloopsy Dolls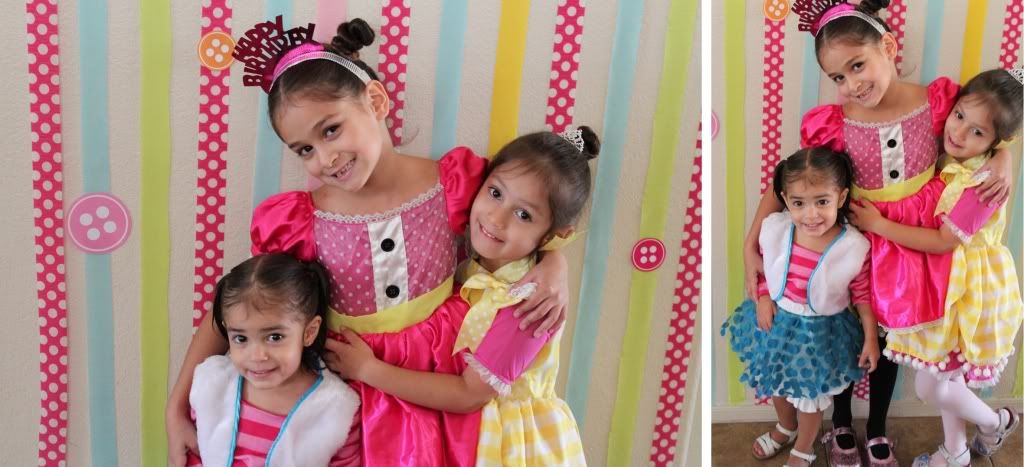 After eating the girls started on their activity. And it was a hit! They played at that table the entire party!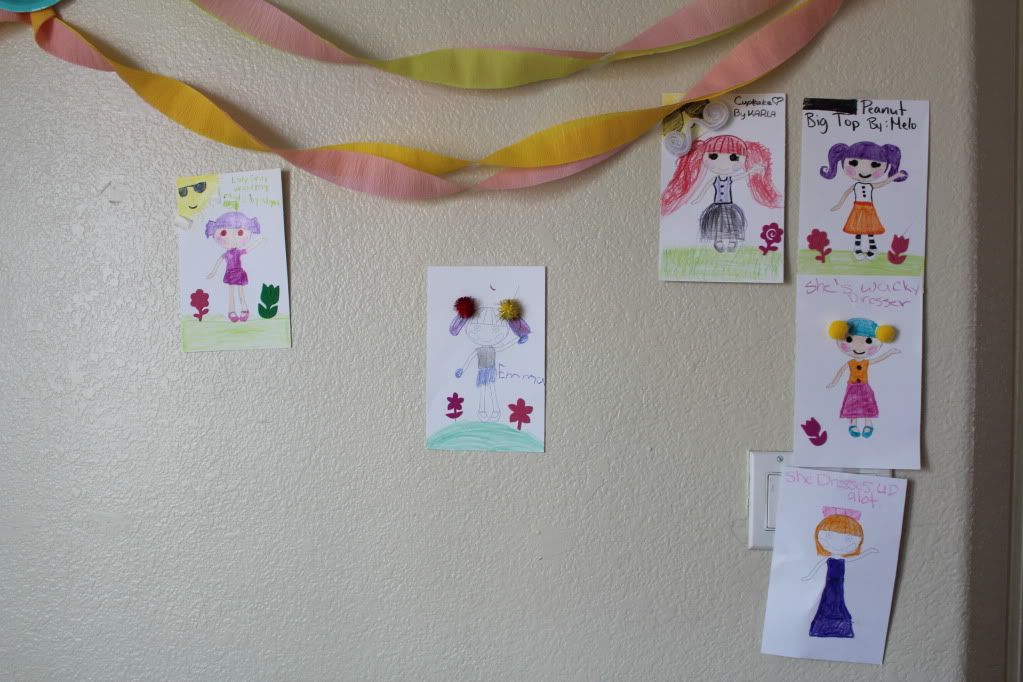 Grandpa and Abby got there a little late because of church and my Grandma wanting to feed them afterward... but when they did Arielle was the first to greet Grandpa!

But Atalie quickly followed.
I pulled Alayna away for a little bit to get a picture of her with them too.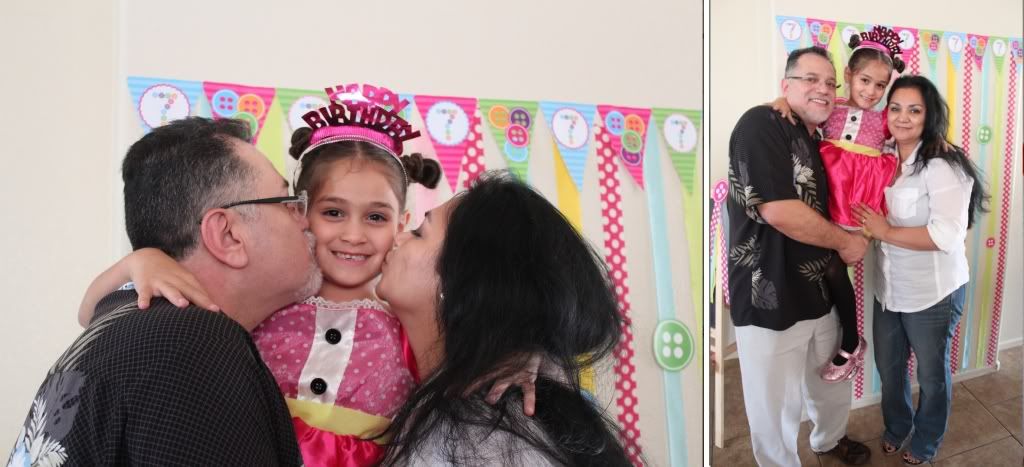 It was funny because Arielle was standing next to me as I took the pictures of Alayna and when she saw Grandpa and Abby kiss Alayna... she yelled, "My turn!" Which made everyone laugh. She got so embarrassed. But Grandpa and Abby were happy to do it... and that made Arielle obviously very happy!
Then it was time to sing Happy Birthday. My best friend Tiffany made them for her. I love Tiffany, I didn't want to bug her yet again for another one of my many parties to make me some cupcakes but she offered. And as always I cannot say no because I LOVE her cupcakes. They're my favorite!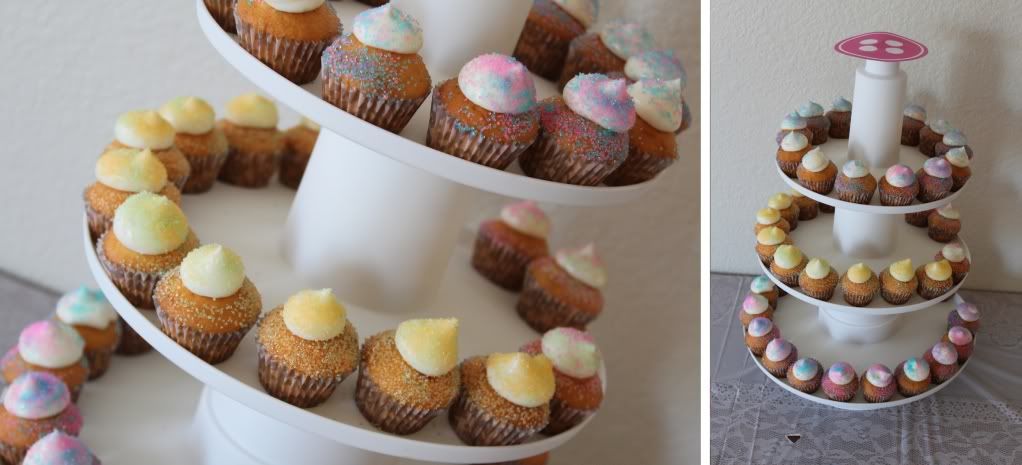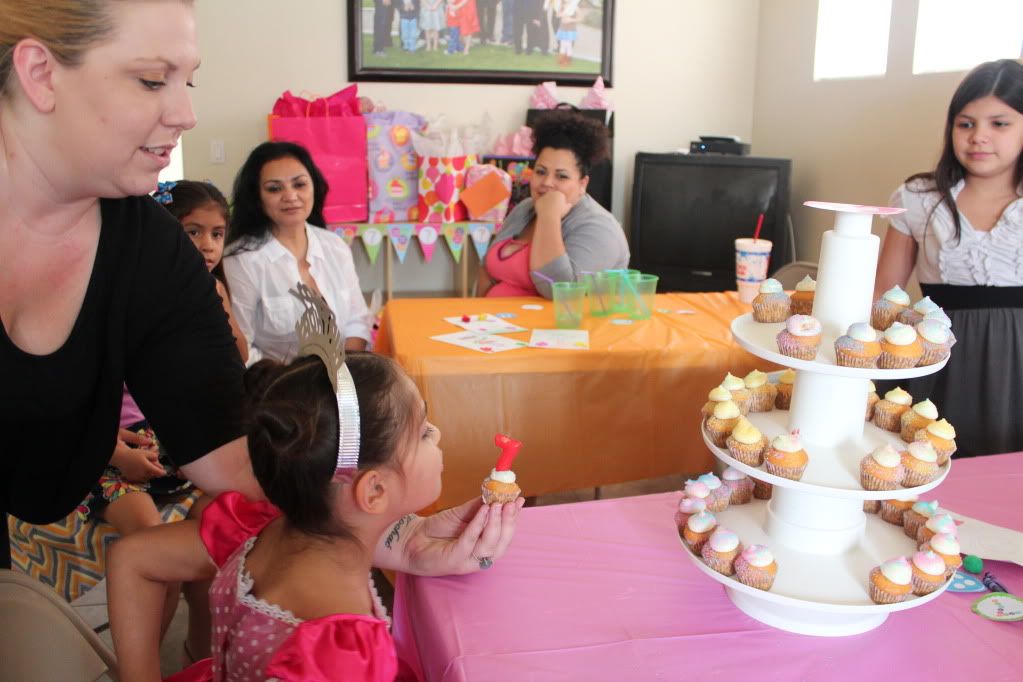 And her favorite part was opening presents. And we watched as she opened Lalaloopsy after Lalaloopsy among the other tons of stuff she got... clothes, Barbies, a lunch box, activity books, games. But her expression and she opened each Lala and discovered it was yet another one that she wanted so badly. Priceless!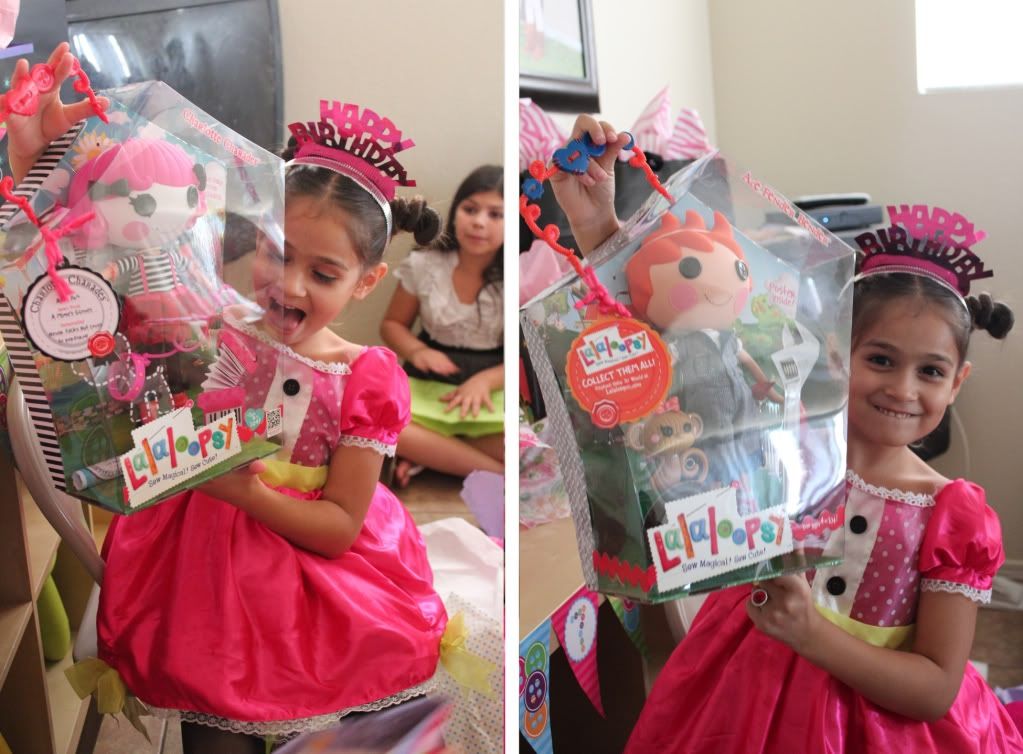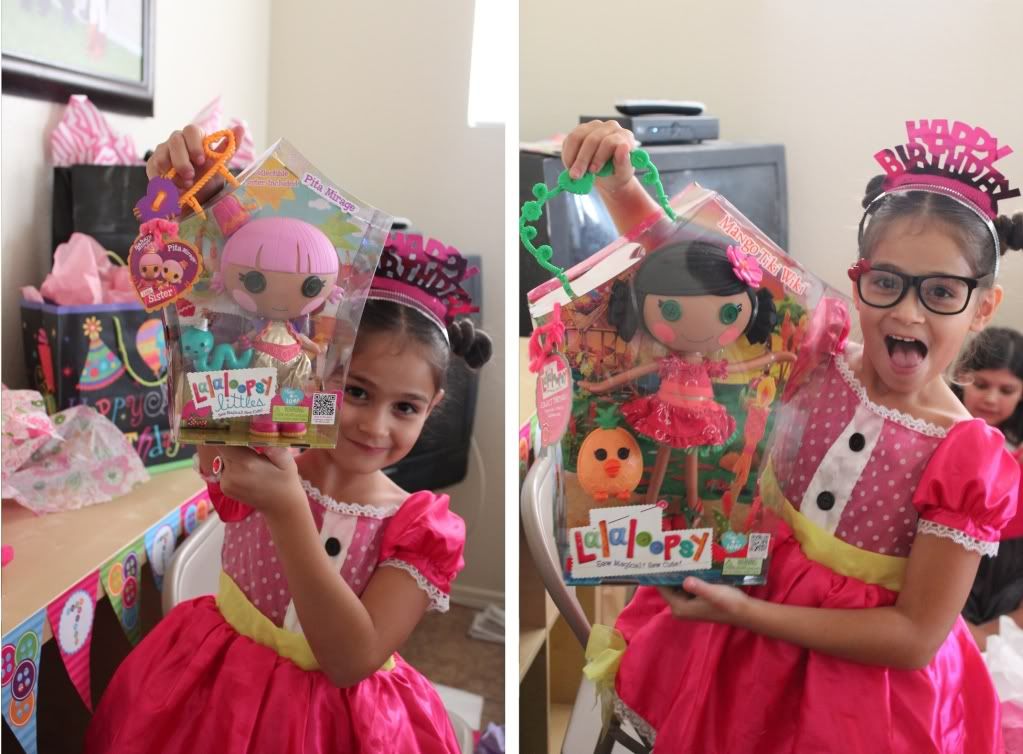 And a gift I was so excited about was the Lalaloopsy backpack my cousin Vanessa got her!
I love how Arielle got bored watching her open all those dolls and not being able to play with them. She just laid there daydreaming.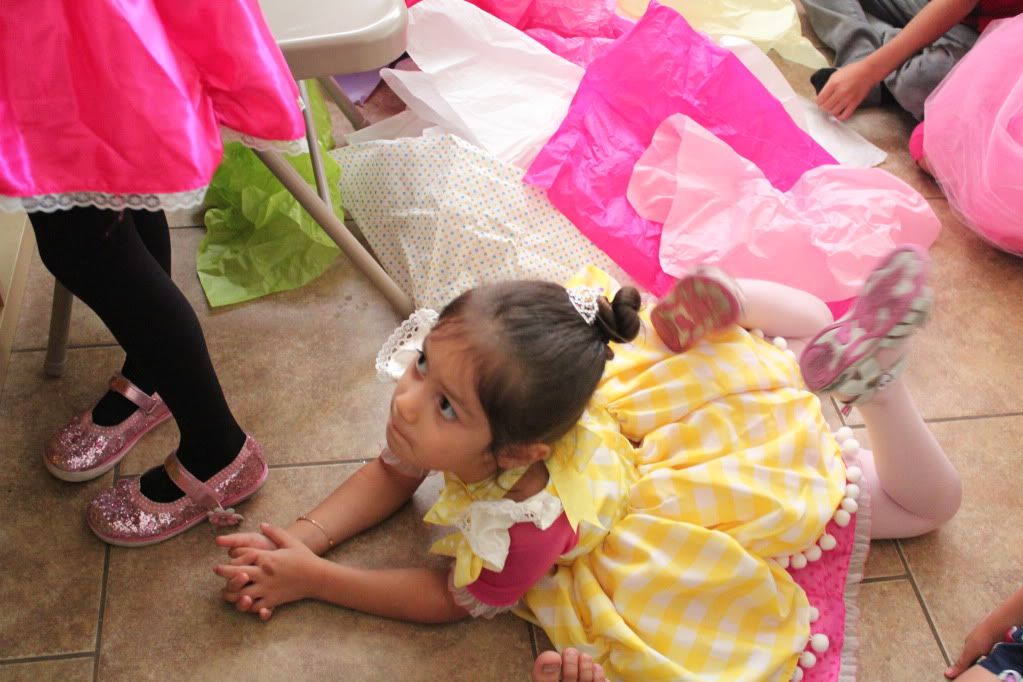 But she made out great. Here's a portion of what she got.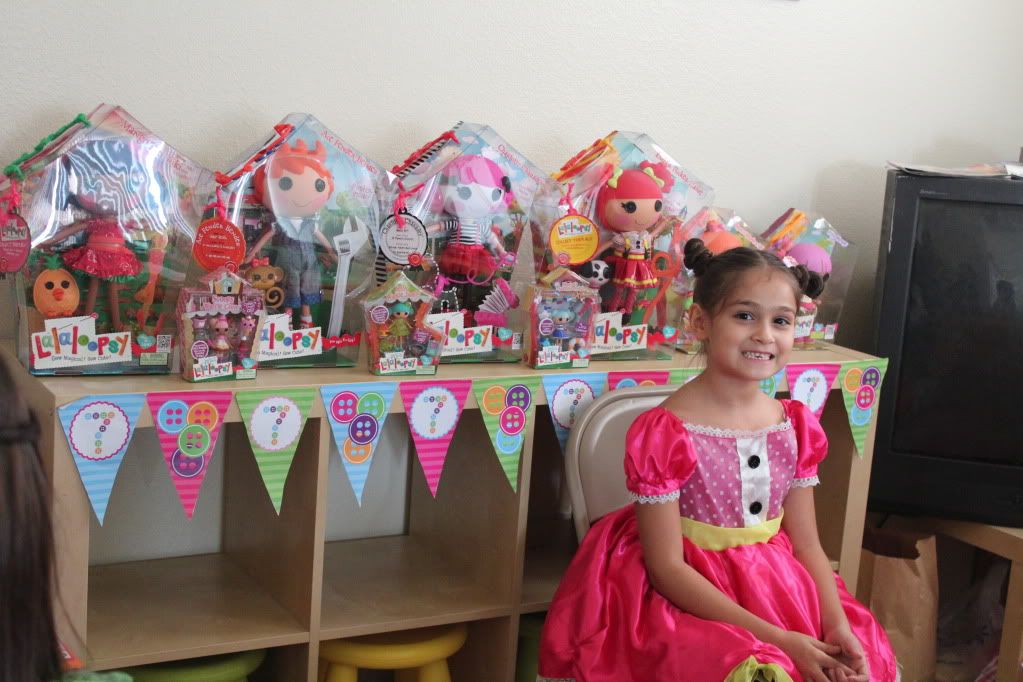 I took the opportunity for another photo session with the birthday girl...
Alayna and my Sister Nichole
Cousins: Mia, Alayna, Karla
Cousins: Emma and Alayna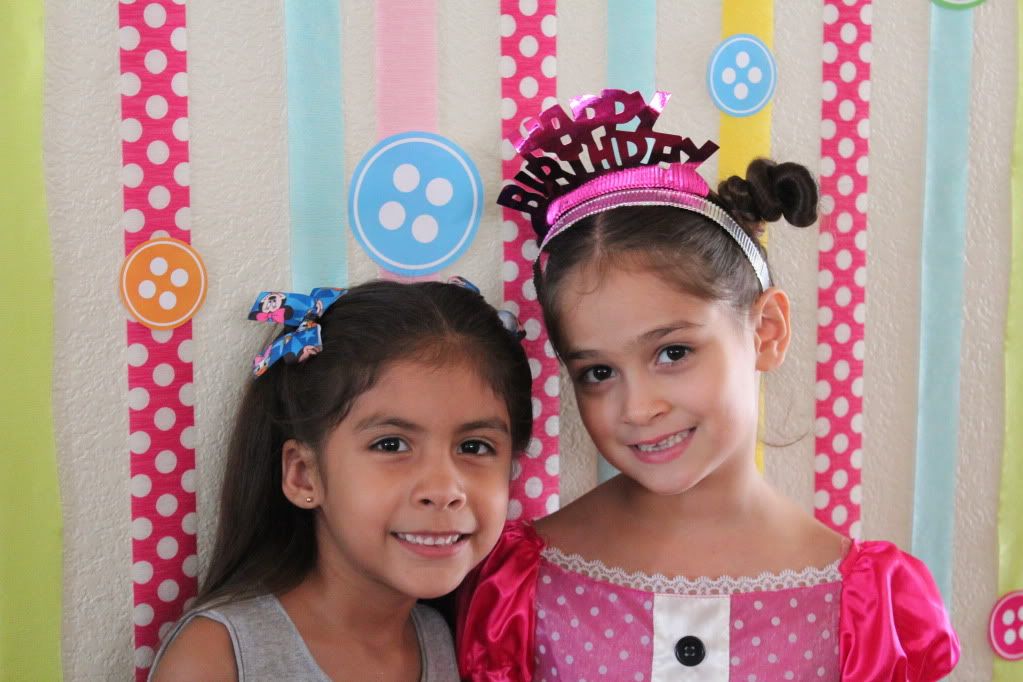 Brother got to emerge from his room towards the end of the party and both wearing their Nerd glasses I bought them.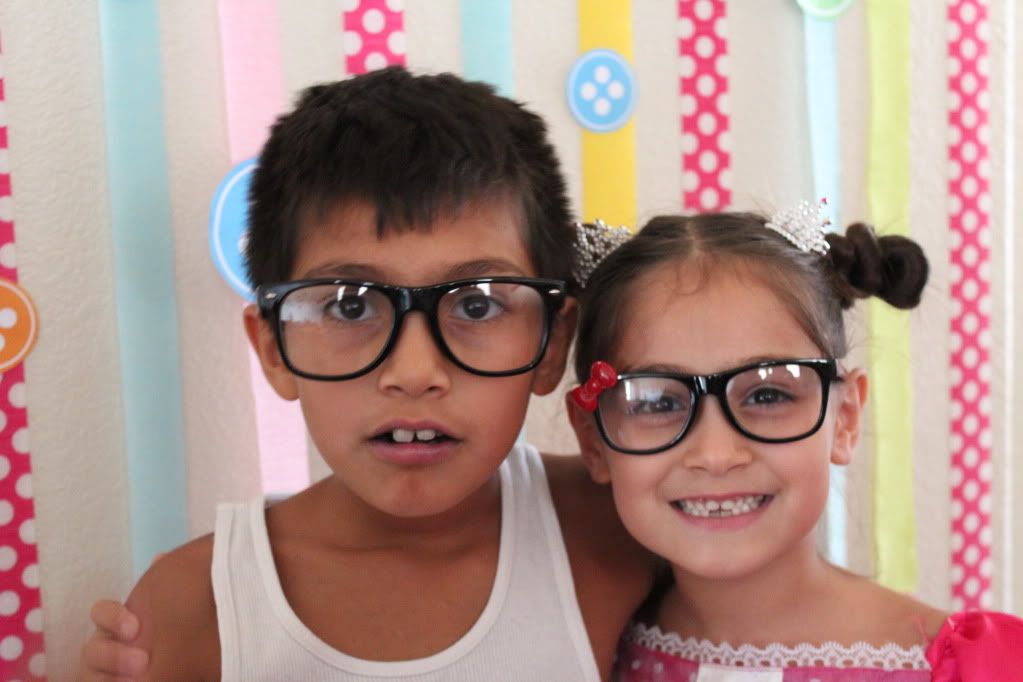 Me and my Princess
I just love my girls (Tal was napping)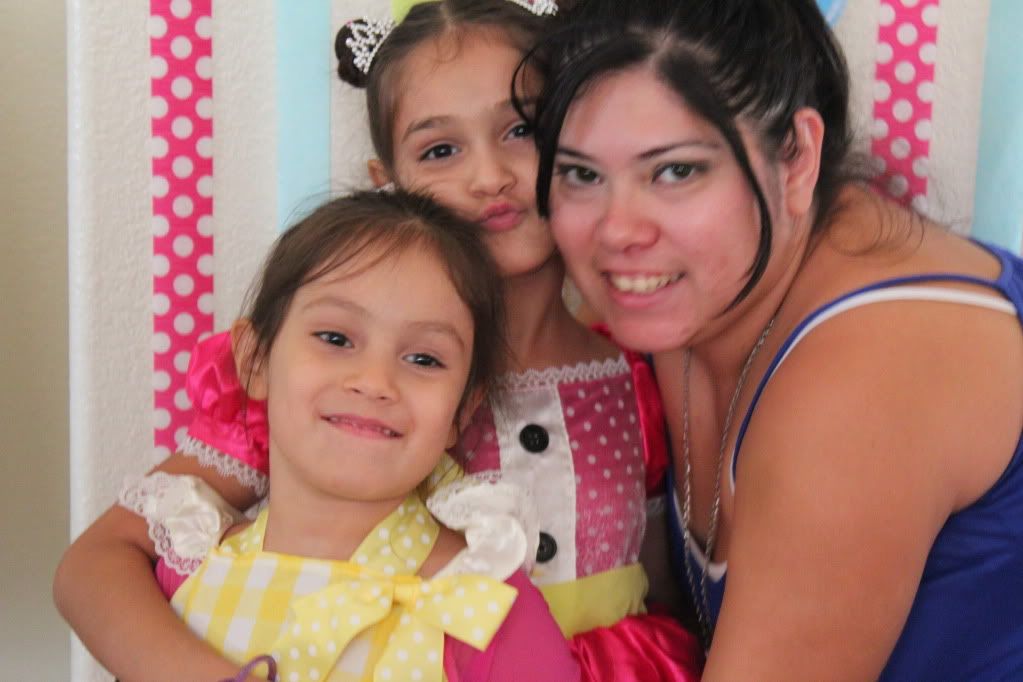 Me and my friend Tracy!
Alayna handed out her goodie bags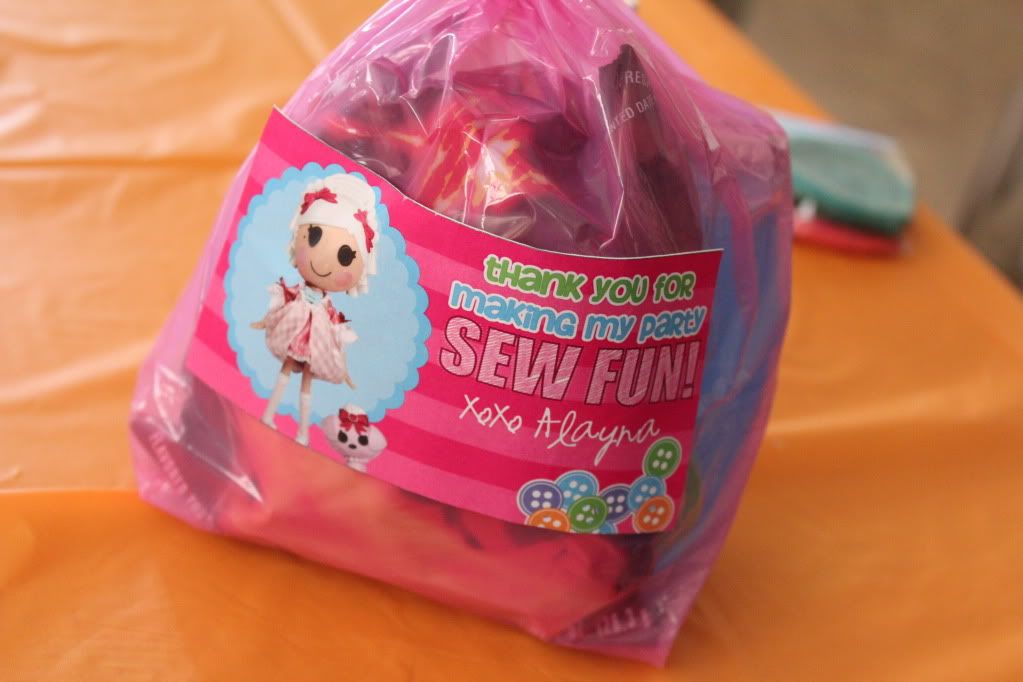 She also handed out the button cookies I slaved over the night before. It was my first time making cookies so don't laugh at them.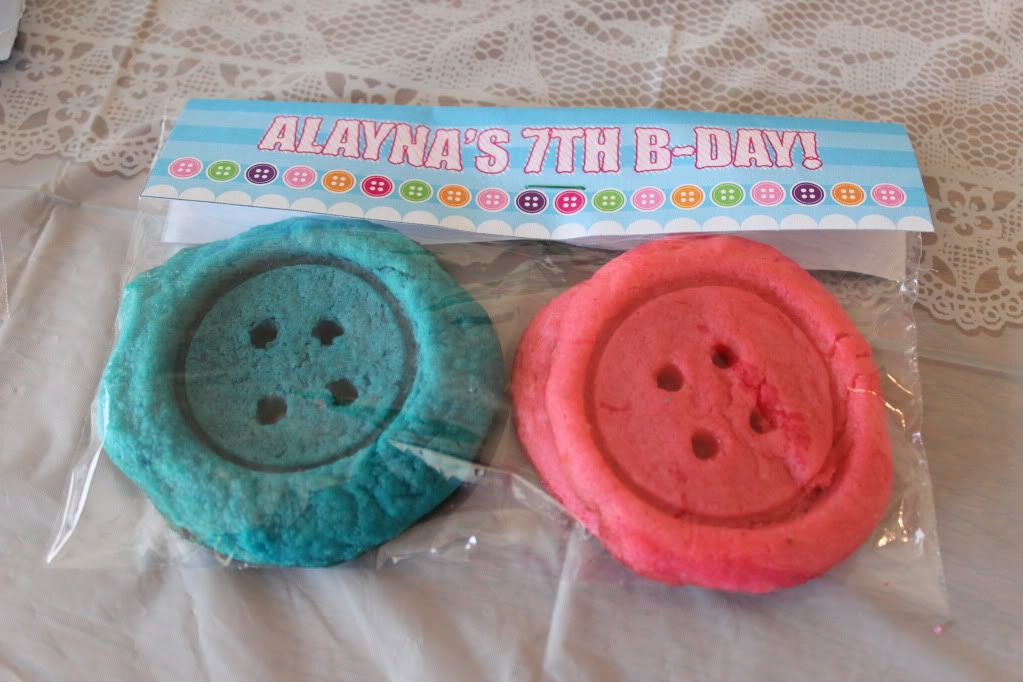 And I passed out the cake pops I made. A pain in the butt they are... but I have perfected my chocolate ones that I dare not make any other flavore because these are so freakin delicious!!!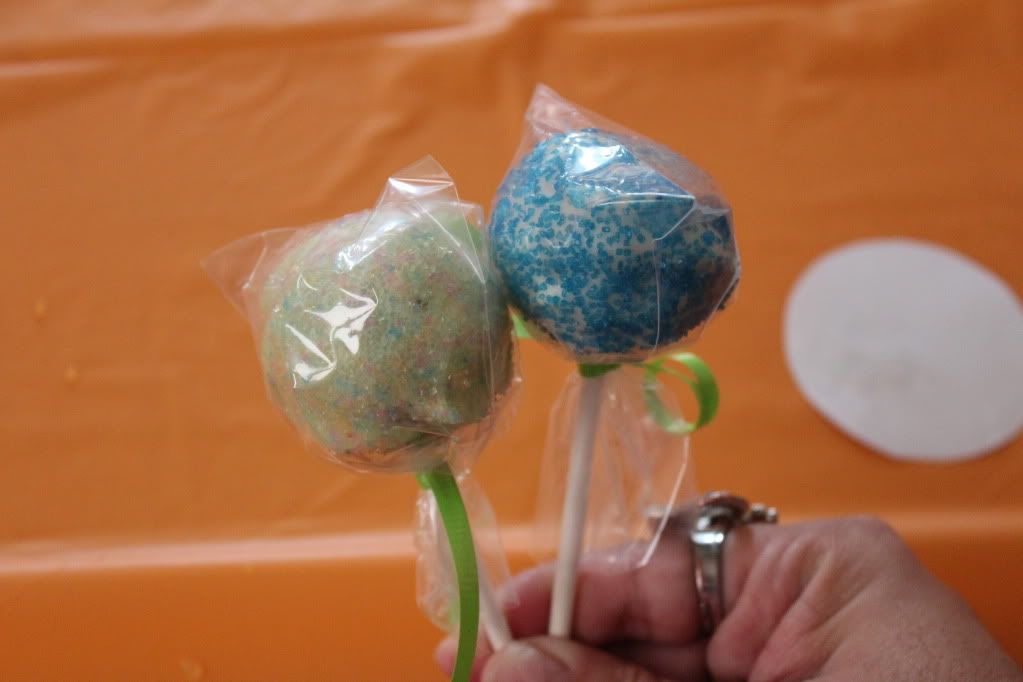 Everyone agrees with me except Kika who likes to be difficult... but deep down inside she loves them.
After everyone left I crashed out and left Daddy on duty the rest of the night. Apparently he was wrestling and screaming with them in my bedroom the whole night and I didn't even hear any of it.
I was exhausted.
But look at this face?!
You my baby girl are my best gift! I love you more than you'll ever know!