The anticipation of Christmas had finally arrived! And now it's gone...
We celebrate on Christmas Eve and I was getting ready for that evening my sister and brother-in-law Loyiel gave me my gift early. And I was so excited!
I got my 4th pillowpet and the one I have been wanting for a while now.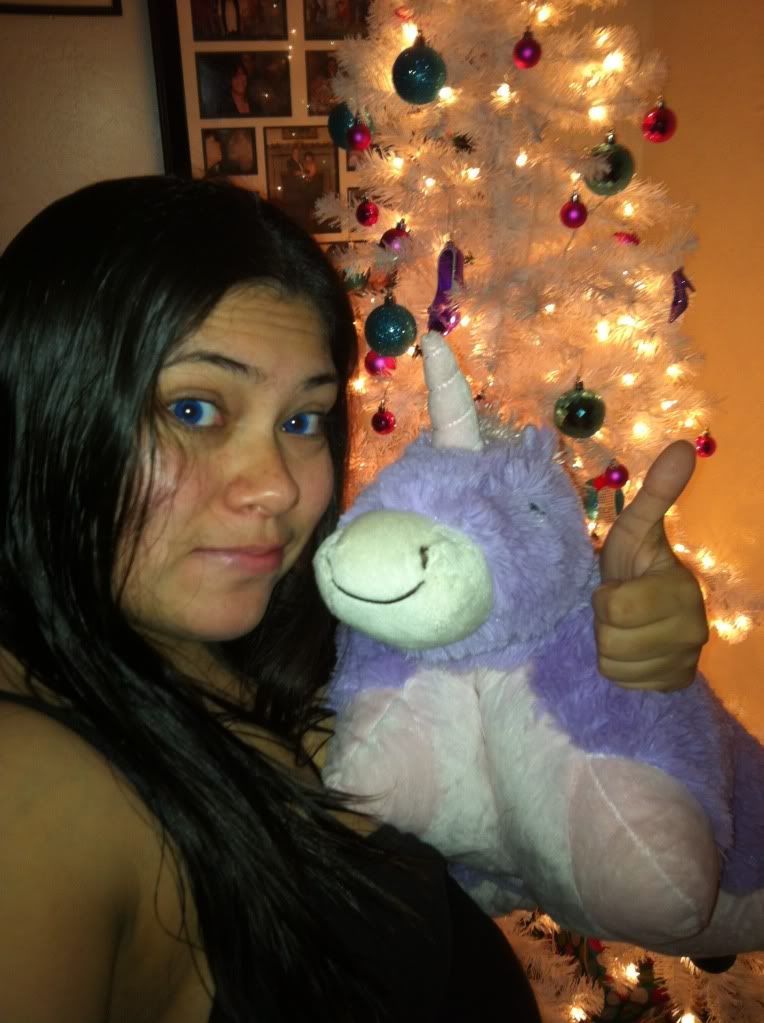 See, I absolutely LOVE the movie Despicable Me. Like love love LOVE it. Just ask anyone. I quote this movie in my daily life all the time. (But then again when don't I quote movies?) I even taught Atalie how to say Popoy hahaha! And in the movie, if you haven't seen it, the little girl wants a unicorn toy (popoy) and when she sees it she says "It's so fluffy I'm gonna die!"
Well one day we were at Walmart and I saw it (I have a fascination with Pillowpets anyway) and I screamed, "It's so fluffy I'm gonna die!" and ran over to it and hugged it and begged for it. Just like in the movie. Well the boys (my hubby and his brother) did not buy it for me because my hubby had just bought me the zebra one. And I was sad.
But moral is, I am sad no longer because I have it! And I named her Agnes after the little girl in the movie. And my brother-in-law says he has done his good deed for the year. Better late than never... considering there's only a week left.
Anywho... we got ready and headed over to dinner at my aunts house. Our plan was to make it to Mass at church but due to technical difficulties we didn't make it and I was pretty bummed.
So my husband decided to show me some love to make me feel better.
But while we waited we took advantage and I got a few pictures of my minions all dressed up! (Wait, that was another Despicable Me reference...)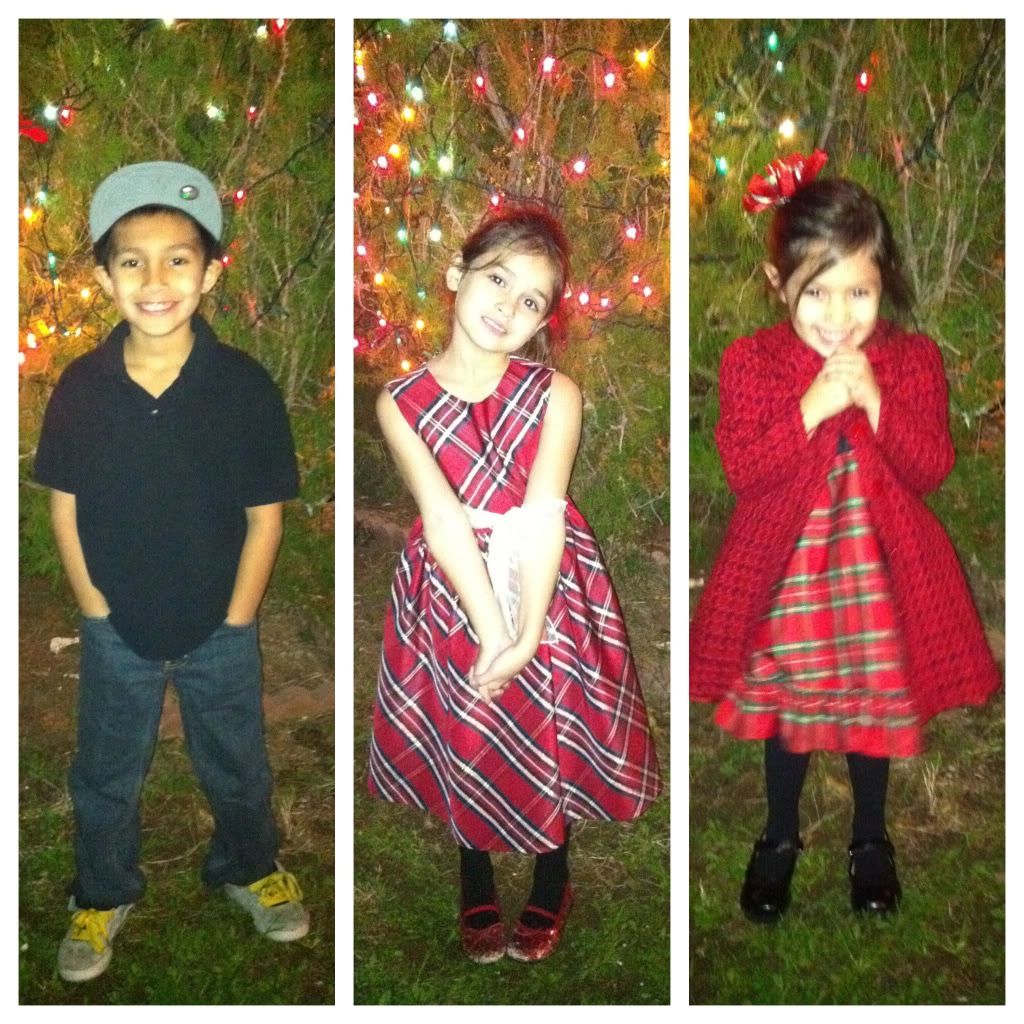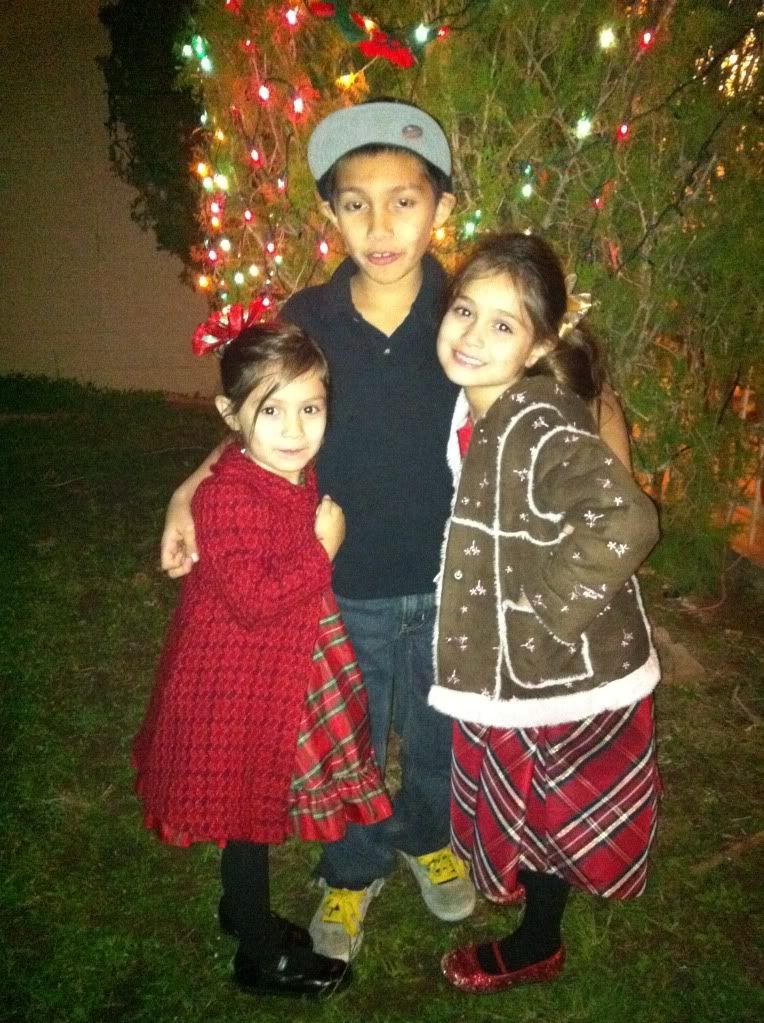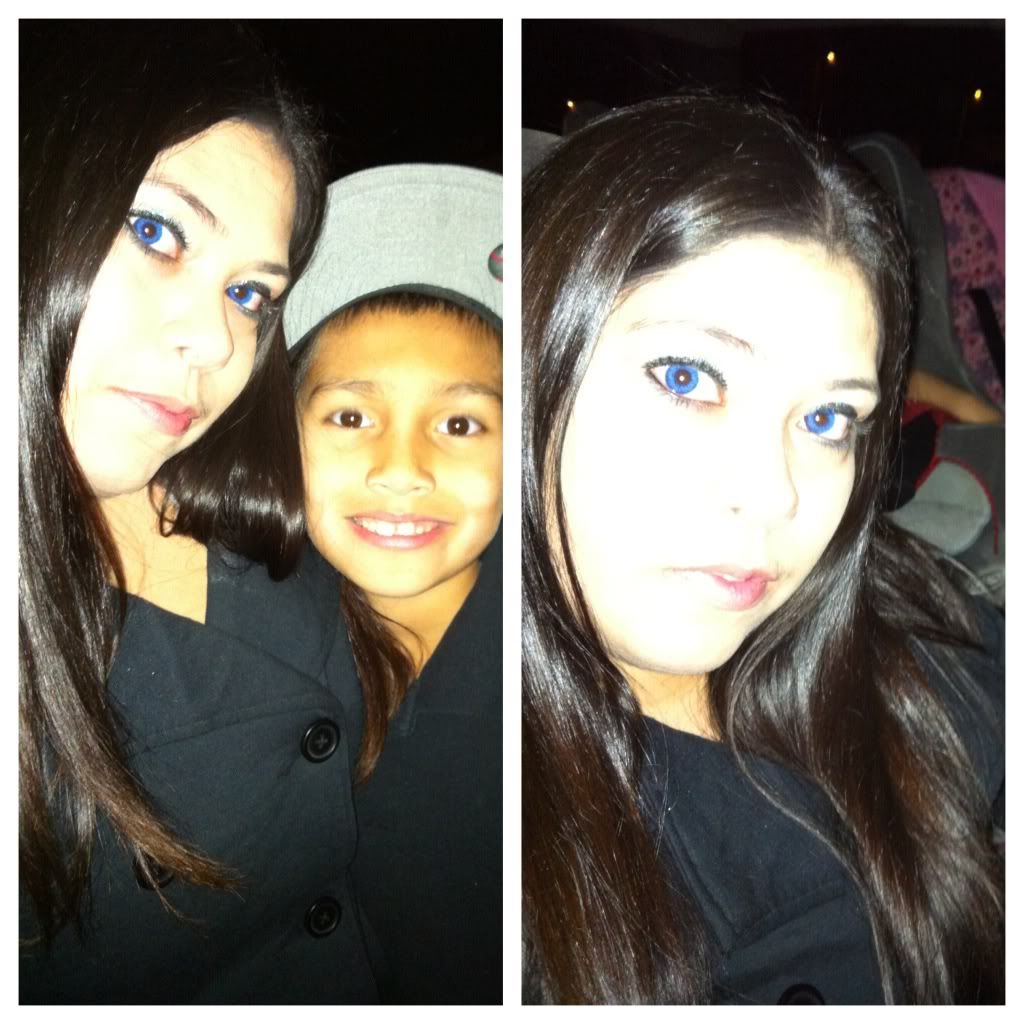 And the baby girls of the family stopped long enough to get ONE picture of them... Miss Laila and Miss Atalie Belle Pepper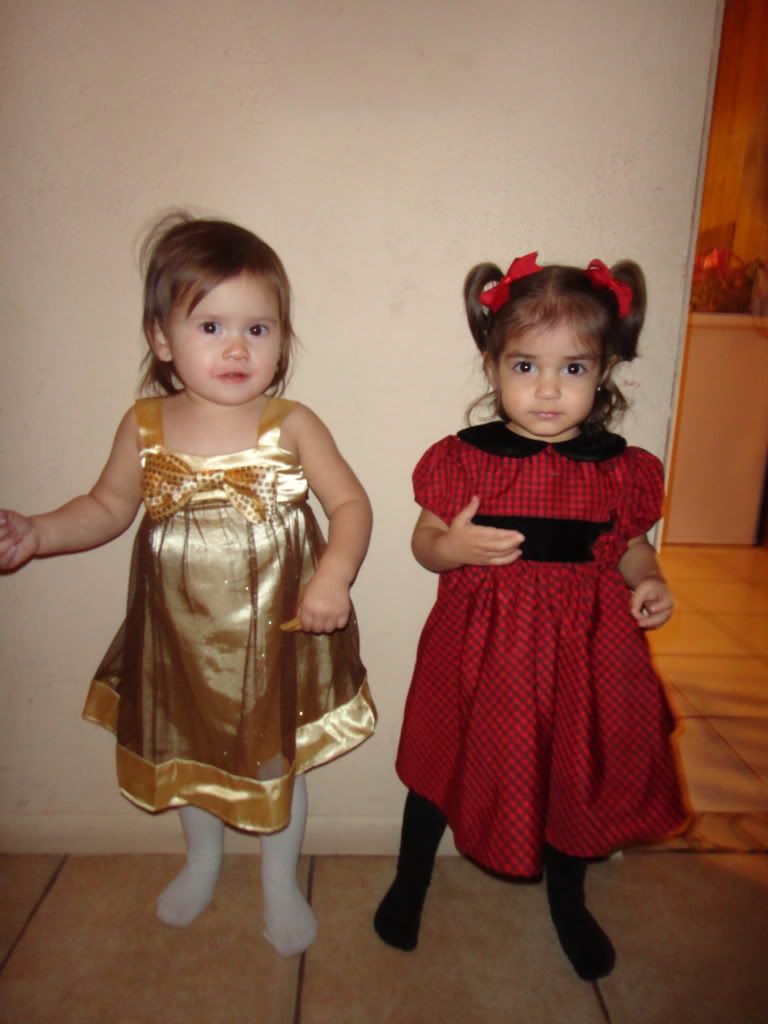 And I had to bribe Talie with a cookie to pose for this one with me... but she is a good little poser.
My baby boy and my Pops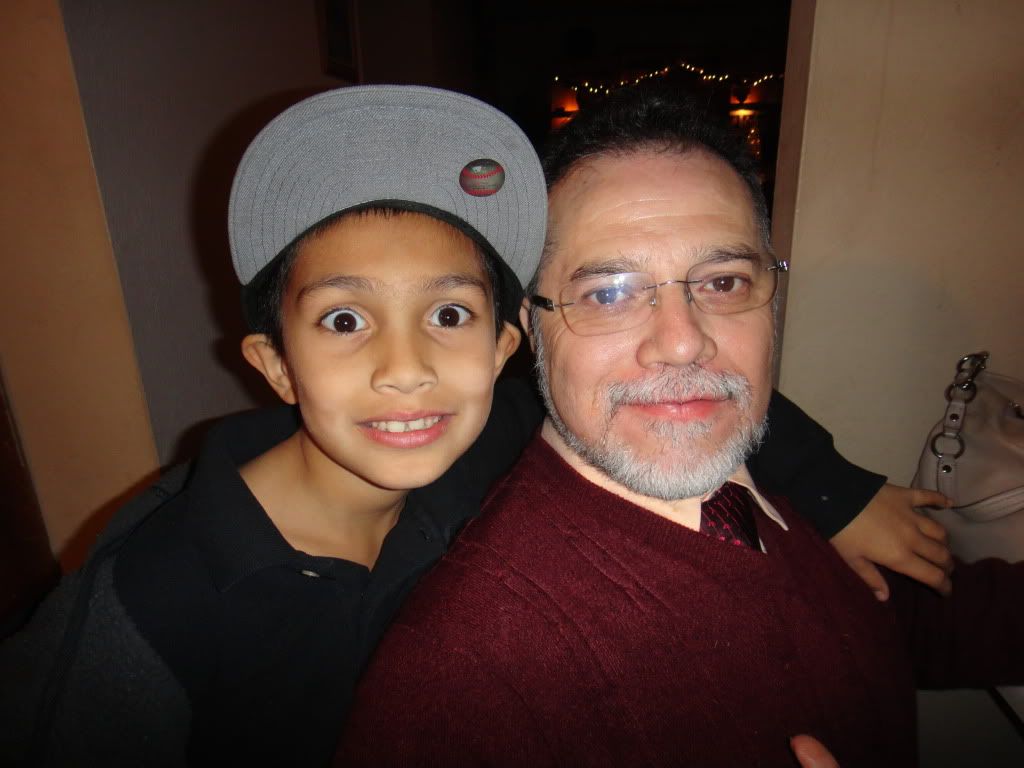 My Sisterface, My Pops, and Me!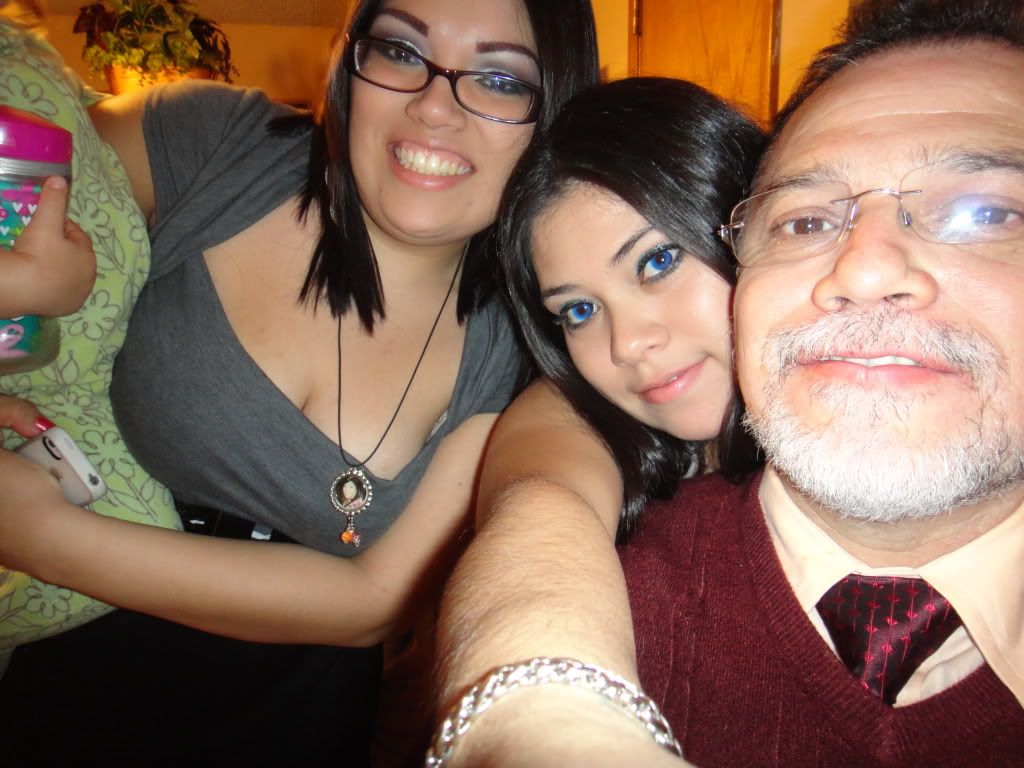 Not too long before midnight we came back to my house to see what Santa left for us! And boy was that room full of stuff!
The kids literally oohed and aahed when they walked in the front door... and Atalie quickly ran up to her pink car! I don't know how she knew it was even hers... but Daddy stuck her right in.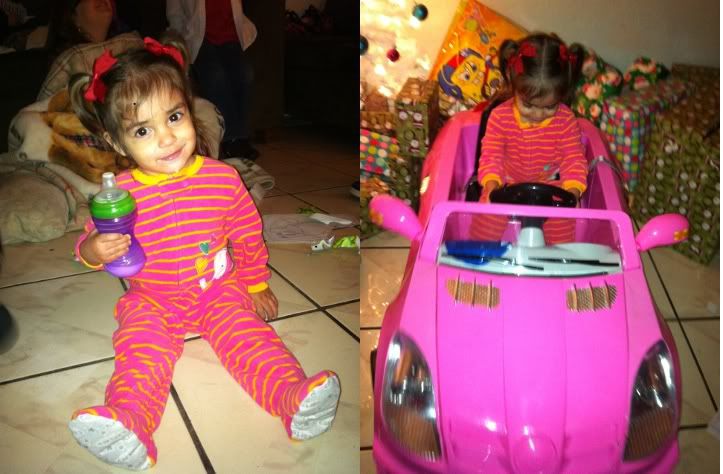 Then we all opened our gifts. We made out pretty great. the kids were happy... beyond happy. I was happy because my hubby got me a few things I have been wanting.
I loved watching my kids faces light up. And most of all I loved watching Atalie open gifts because I thought she wouldn't know what to do. And literally whispered Wow every time she found out what was behind the paper :)

Diego got tons of Cardinal gear and some outdoor toys. We steered clear of electronics or video games. Alayna had a Lalaloopsy Christmas. She is obsessed and I think I love them just as much now! Arielle had a Disney Princess theme going on. And she is the biggest Disney Princess fan. And Atalie got a few cute things and the best $5 I've ever spent... on a magnadoodle. That girl loves to draw (just look at my walls) and she still has yet to put down that magnadoodle. She even sleeps with it.

Christmas day for me is always chill and play with all the new toys day. My brother was given a ham from work and so he my brother-in-law cooked it up and we went to have dinner at their house.
It was a beautiful day and the weather was fantastic that we played outside all afternoon! My 2 oldest and my nephew got roller blades and so they learned really quickly how to use them! And Atalie got to ride around in her new car.