What is a Lalaloopsy you ask?
If you don't have a little girl then let me fill you in. They have been big since last Christmas. They are these cute dolls modern "rag dolls" with big heads. They are supposedly sewn from a piece of clothing and each one had a theme. One is sewn from a clowns costume so therefore she takes on that personality. and each one has a pet to match. My daughter mentioned them since last Christmas so I knew what they were. As it got closer to her birthday this year in July she asked for one. That's all she wanted. And we never got it for her. But her obsession continued on. I bought her a book of them. It tells their stories of how they came to be. And she studied it and learned them all.
Then I started liking them too. The more she talked about them... the more I learned about them and I even follow them on FB haha! Her and I obsess over their cuteness when a new one comes out. She has her favorites and I have mine. Yes! They're that cute! Don't judge me!
So this year the plan was to FINALLY buy her one of the full size dolls. I had been scoping them out since October hoping to see if I find her favorite one. I figured with plenty of time before Christmas I might as well try and get her the one she loves the most. Well one thing after another happened and we had done all our shopping and that was the ONLY thing we hadn't bought. Oh and did I mention this was on the night before Christmas Eve?
All the week prior I had been sure I could just walk into a store and grab one... any one... because at this point, a week before Christmas I just wanted to give her any of them. But nope. For 7 days straight I hit up every store near me... sometime more than once a day to get my hands on one. And there were none. I called Targets, Toys R Us, and Walmarts not in my area. And nothing. No one could tell me where to find one. No one had them on their shelves. All they could say was whenever they did get a couple in they would be gone in a second. And of course no one could hold one for us.
So I told my husband, we are going to go look for that doll! He didn't really want to at first but I felt so bad that she didn't even own one stinkin doll and had been loving them for a year! I knew it would just make her Christmas! And I love nothing more than to see my kids faces light up! So our search began at 7pm. The game plan? Walk in, check the Lalaloopsy section, and head out quickly if we didn't find one. We hit about 6 different store before I got a call from my cousin to fill us in on our Christmas Family Gathering. It was in this conversation that we learned... she too had been on the hunt all week for one of these dolls for her daughter. And she was out doing the very same thing! So I told her if we found some I'd pick one up for her and vice versa.
After we hung up with her, Jr and I still hit up a Target, a Walmart, a Kmart, and were headed to another Walmart over by my sister's house. It was the 10th store that night. (And while we were in each store I was still phoning other stores seeing if they had any on the shelves... gotta multitask!) It was close to midnight and as we walked into this particular Walmart it had turned into a game for us. A challenge. More than ever we wanted to find a doll because of all the time we were investing. As we approached the toy aisle we split up as we had been doing. I realized Jr had gone the wrong way so to beat him I beelined it to the girls aisle. (I know how all these Walmarts are set up like the back of my hand) He is faster than me and we turned into the same aisle from opposite ends at the same time. But I was right there. I looked at the section of Lalaloopsies.
My heart sank. Nothing but mini ones again. As we started to push around the toys to see towards the back if one was hiding back there... a stocker put down 3 small boxes by my feet. I don't know if you'd noticed how they stock at Walmart but they lay the boxes down on the ground in front of the sections they go and someone else comes and unloads the stuff onto the shelf later. So irritated and in a hurry I start shoving the boxes with my feet over to the side. And I continue searching the back of the shelves when I hear my husband scream, "You idiot! (In a loving way of course) By your foot!"
He reaches down and tears open the boxes to expose 9 full size Lalaloopsy dolls. Victory was ours! I literally screamed and jumped up and down as he pulled out each different one they had so I could choose. Out of the 9 there were 4 different ones. And he stood there clutching them in his arms while we laughed and laughed and basked in our glory. The stocker who heard our commotion was laughing at us because he noticed he had just put it down and we went crazy. He told us that every time he restocks them they would be gone in a flash. So as we stood there a man turns the corner and also spots them and snatches one up. He tells us, "I have been looking mad for one of these!" And in under a minute more customers grab the remaining ones we didn't have and they were all gone.
I called my cousin to come meet us to get hers. I called my sister to share my excitement. I texted my friends who I had on the hunt all week in their areas looking for them too. We were quite literally on a high! As we got to the registers my husband has decided that she was getting all 4 of them. (Plus the one boy doll we had in the car that we found at a Target a few hours before and bought just in case we never found a girl doll. Because at that point even the one boy doll was a victory) So we bought them all, and I made sure he price matched for Target's price because my husband will always overspend.
I was most definitely a happy camper. We both were!
Here's my cousin's husband Frank and my husband Jr posing outside after our Success!
So dear child of mine, this smile on your face says it all. One happy little girl with all her Lalaloopsy Dolls. Mommy and Daddy... err I mean Santa... will seriously do anything to make sure you're happy!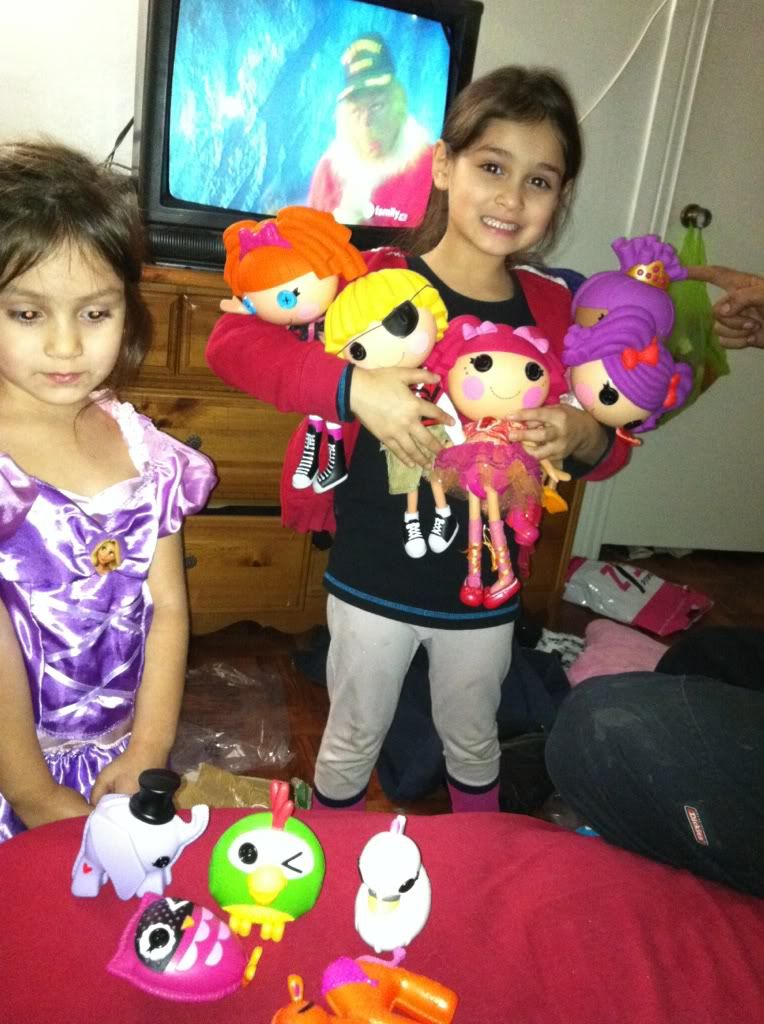 And in case you're wondering one of the ones that we snagged was actually her favorite doll and her 2nd favorite doll. And I had never seen either of them in the whole 2 months I was looking prior to Christmas.