My Birthday party was great! Lots of family and friends showed up! Here's the highlights:
My friend's Felicia and James. Felicia is due 3 weeks after me!
Me and my sister
My friend Dawn and her husband Jacob came! And they brought their baby Lily!
Dawn and I
We had my favorite food... Pozole!!!
My friend, my love, my partner in crime Tiffany!
Guests
Tiff made me my cupcakes! I loved them so much and they fit my "Tiffany/25th Silver Birthday" theme.
Happy Birthday to me! (That candle has seen many cakes and many birthdays in the last 10 years it's like tradition)
Making a wish!
And OF COURSE my husband had to get me...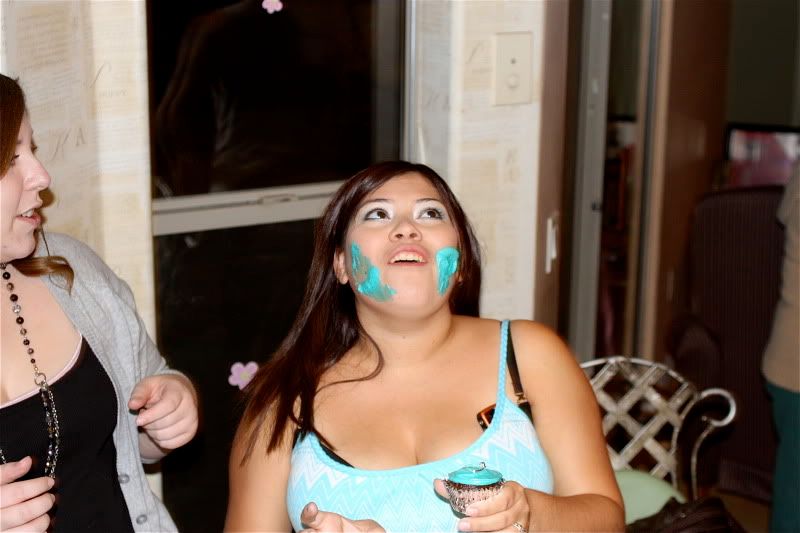 My bling and my cupcake...
The man who made my WHOLE week extra special. He's the absolute best!
Gifts!
A gift card!
Diego wanted to be in our pictures... ain't he cute?
I got some moneys... I am gonna go shoe shopping I believe.
Tiff got bored of watching me open all my gifts and decided to take a nap. LOL J/K
All the cards that contained money or gift cards were so cute and ironically all but 2 had something to do with shopping. Am I that much of a shopaholic? LOL
Funny story: Everytime we go to the store and see cute umbrellas I tell Jr to buy me one. He always fights me and says it's a waste of money because AZ gets 1 day of rain a year. So I always tell him that I need to own one for that "1" day. But he fights me to no end. My Dad didn't get a picture of it... but Tiff bought me one! LOL Yay!
Along with another velour pantsuit. She's awesome!
And after I was done with all my gifts which included lots of perfumes and body sprays and stuff like that...
My parents got me...
A log?
No no... they love me more than that...
I got a silver dangle bracelet for my silver birthday! How fitting! And it's so pretty! Best parents ever!
The rest of the night was spent playing games! And it was hilarious and so much fun!
So a quick thanks:
Mom & Dad - Thanks for creating me some 25 years ago. Oh and thanks for sharing your 28th wedding anniversary with me... you should have charted and my birthday might not have ever conflicted with such a momentous day. Mom thanks for the food, the love, and the bracelet cuz I KNOW yo picked it... and did I mention the love? Cuz I know you love me so much since I am your little baby and all. Dad thanks for my shopping spree and thanks for letting me be the apple of your eye. I like being Daddy's Girl.
Tiff - You are the best friend anyone could have. Thanks for my cupcakes they were so good. You never let me down. And thanks for generally just being my friend even if I do have some ghetto in me.
Jr - You made my whole week the best week ever. Thank you for always spoiling me to no end, loving me even when I am a brat, and always putting me first. You're more than I could have asked for... and by far the greatest gift I've ever gotten. Love you.
And thanks to everyone who came to celebrate with me!