I took my very good friend Tiffany to lunch at the Olive Garden today as a late birthday lunch. Her birthday was the weekend I was gone in California and so I wanted to do something for her. And who I am kidding? I LOVE girl time with her so it was also just an excuse to get out of the house for the day, no kids, and just bond! We had an awesome lunch and talked our butts off. It's good catching up because with her work and now school and me and my daycare (oh wait... those kids are mine) well you know, it's hectic.
Afterward she agreed to go on an adventure with me. Where? To Ross. The mission? Somewhere where I've never gone before... Maternity Pant shopping. Well yes I have 3 kids but I've always gotten away with never having to buy actual maternity clothes.
With Diego I fit in my pre-pregnancy jeans until about a month before I had him... so when they didn't fit... I just kept them closed with a hairtie. Easy fix. And wore longer shirts. I was 17/18 years old back then and less than 100lbs.
With Alayna I lived in sweats, leggings, and anything stretchy. And baggy t-shirts. Seriously. No energy to even look presentable.
With Arielle I did have a few hand me down pregnancy tops from my sister-in-law Jen and my cousin Sandra. And like 2 pairs of maternity pants also handed down from Sandra. But they were really big on me. I have no butt, no hips, no thighs in which to fill any part of the jeans. So I wore them still baggy... and uncomfortable as they were.
But this time I decided I needed something that fits. I am constantly out and about and I think I should finally give a dang about my appearance a little. Hey what a concept! So on a mission I went. And dragging my friend Tiff was the best idea.
She kicked and screamed (not really but sounds good no?) and we made it out of the store in one piece and I only spent $50! Heck yes for smart shopping!
I felt a little like Goldilocks the entire time. These pants are too small, these pants are too loose, but these pants are JUST FINE! It went a lot smoother than when I was imagining. I did find my size, just had to find the smallest ones they had to accommodate my weird body. But all was well.
So here's what I got: (and don't mind the BAD quality... I used my P&S camera and it's finally dying after 5 years!
My main quest was for Jeans and these were JUUUUST right! Too long but all my pants always are (I'm 4'11) so I will get them fixed.
Then I found these casual ones that can be buttoned up into capris as well. I fell in love! They are so cute and fun!
I wasn't searching for tops really but I tried a few on and we really loved this one. I especially loved the color. So I got it.
Then my last pair of pants are dressy. I figured since we have holidays and stuff coming up I will definitely use them.
And I couldn't pass up this maternity sweater. Not only was it comfortable and cute and my style... but it was $4.49! I got some smokin deals I tell ya!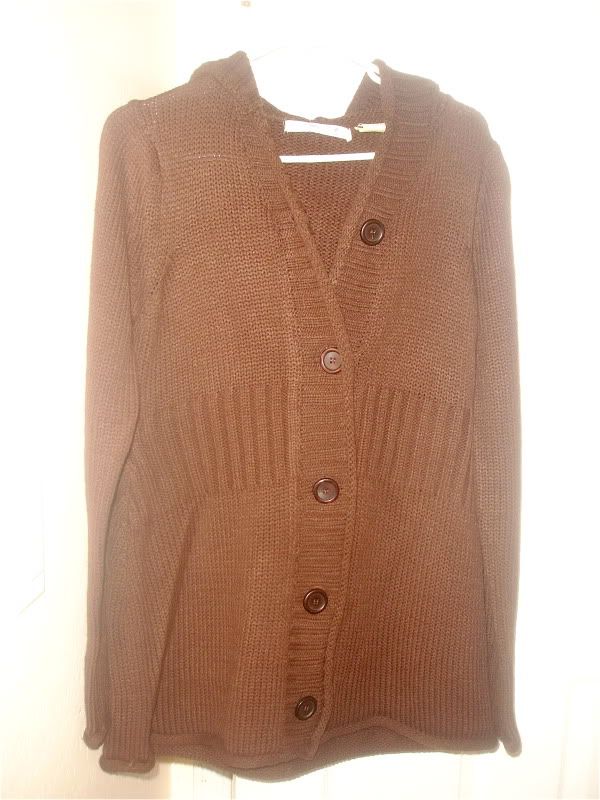 And lastly my friend Tiff took me to Old Navy and she bought me a velour set. I LOVE it! I picked the pink since it's my favorite color. They had a hot pink one but my husband wouldn't walk out in public with me all in that bright of a color. I know. So I opted for a more sublte color. Haha! And I love it and can't wait to wear it. Right now I am still getting really warm (must be the pregnancy cuz I am the only one always hot) so I am waiting until it gets colder to wear it.
Then I got home and realized I guess I do need more shirts. Most are not long enough to cover the tummy. But I don't wanna spend any more money since I won't wear them again afterward. Maybe I'll hit up a sale rack and just get a few...
Thanks Tiffany my love! For having lunch with me... for shopping with me... for buying me a "You're Pregnant!" gift... and for being my very very good friend no matter what! I love you so much!