I am seriously convinced I have the absolute most best husband in the world... better than every other husband in the world... I maybe be biased but I am pretty certain of this. Not that I didn't already know this before but the past few weeks he's just proved his love for me even more. And he probably wasn't trying much, and he probably doesn't even think he's done anything different, but he has.
The end of December was rough but he was glued to my side more than ever. He is the only reason I have gotten through the last 4 weeks. Just being there, understanding me, holding me as I cry and letting me cry whenever I need to, always texting me to make sure I know he's thinking of me... whether it's 2am while he's out working or in the afternoon when I go pick up or drop off Alayna at school even though I was with him 5 minutes earlier. Shouldn't all husbands do this anyway? Well I hear more and more this is not always the case. So I consider myself lucky then. He's there for me as much as he can be even in the simplest ways. And all this without wanting anything in return.
Last week he found a photo of me and my Mom in my millions of pictures. He really liked it. So he found a frame in my closet that was empty. Then he found a mat for a 5x7 picture... but the picture was a 4x6. So he got a piece of scrapbook paper from my huge stash and placed it behind the photo to fill the gap. And then he realized the mat was just a little too big for the frame... so he had to cut the thick mat down to fit the frame. But it was too plain for him... so he found stickers (I have a bazillion scrapbook things to dig through) and these stickers were about Mothers. He found the two he liked and voila! He completed a frame! I was so happy! I can't believe he went through all that. I mean... this is Jr we're talking about... he has no patience for anything... and no creative bone in his body. But he made me a frame and put the picture next to the one I have on my Grandpa and my cross. I can't tell you how much something as simple as that has made me so completely happy.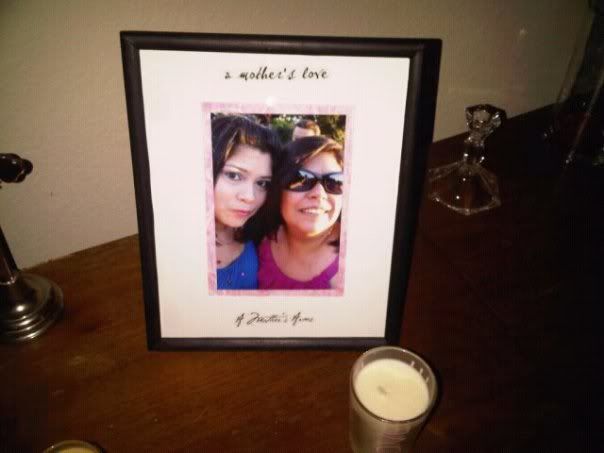 Saturday I slept in... and he woke me up (at 10:30am) only to show me something. He got me an Ipod touch last week and I had yet to use it because we had no internet until Saturday... so he had loaded it with all my favorite music. Synced it to my Macbook, and to top it off... he went on a search for a Coach theme to use as my background. he came into the room so happy to wake me up and show me what he did! He knows my love for Coach purses and I couldn't help but smile as I looked at it all. Like I said... always trying to do things to make me happy or smile.
The other night I was sitting in my bed, drinking some lemonade, watching one of my shows on cable and using my laptop from the comfort of my bed. All while he got the kids to bed. He walked into the bedroom and stood there staring at me, then he said something to the effect of me being spoiled. I know I looked like the happiest person alive using my internet AND watching cable. (After almost 3 months of neither one I am sure glad to have it back) And all I could say was my Mom warned you. When we first got together more than 5 years ago the very first thing my Mom said to him was, "Are you sure? She's spoiled, wants everything, needs everything, and she's the biggest baby... and YOU are going to have to take care of her and put up with her." I stood there as she told him, probably trying to talk him out of it and warning him that he should run for the hills. But he accepted. And I am sure she was surprised that he hasn't abondoned me yet. I am a little difficult sometimes... I wouldn't be able to stand myself sometimes... but he's the best.
And today, even though he works all night and into the late morning sometimes (and gets hardly no sleep some days unless I FORCE him to sleep)... he took me and the kids to Peter Piper for lunch. He knows how much I love going there. So we invited some family... or half the family practically LOL and my best friends and spent like 4 hours there in the afternoon. Then he slipped me some money and said he I could take off with my friend Tiffany for a much needed pedicure. And gave me enough so I can also get my nails done this week sometime. He knows I love to have these things done but haven't been able to keep up with either for like 6 months or so. I couldn't have been more excited. But before we left he ran off to the store for "cigarettes". Which made no sense to me cuz he had just bought some... but I was so involved in conversation with my best friends that I really didn't think much of it. He came back a while later and handed me a bag. And when I opened it... there was a 1.5 Terabyte hard drive! Yes I am a nerd! But I had officially run out of space on my 160gb hard drive (well I was out of space there since June) but now I had also filled up my computer's hard drive to the point where I could perform anything over the weekend. Not enough memory to do anything! And filled every jump drive I own and there are quite a few of them! I was beyond excited. I just had to kiss him. I mean... he's right I AM spoiled. He loves me way more than I deserve sometimes. I turned to him and said, "And you call me spoiled... YOU made me this way." He just smiled and kissed me again. And then he took all the kids and went home so Tiffany and I could have the rest of the afternoon getting pampered. It was awesome. And I came home to him already transferring all my files for me.
I had the most wonderful day... and I have the most wonderful husband. And now he's off at work again on hardly any sleep and working his butt off for me. It makes me hope I do enough to show him that I love him.
Sweetheart if you read this... I love you. And I can't help but wanna shout from the rooftops how wonderful, and special, and perfect you are. But let's face it, I am too pregnant to be getting on any rooftops soon... so this blog will have to do. :) I am so lucky to have you.