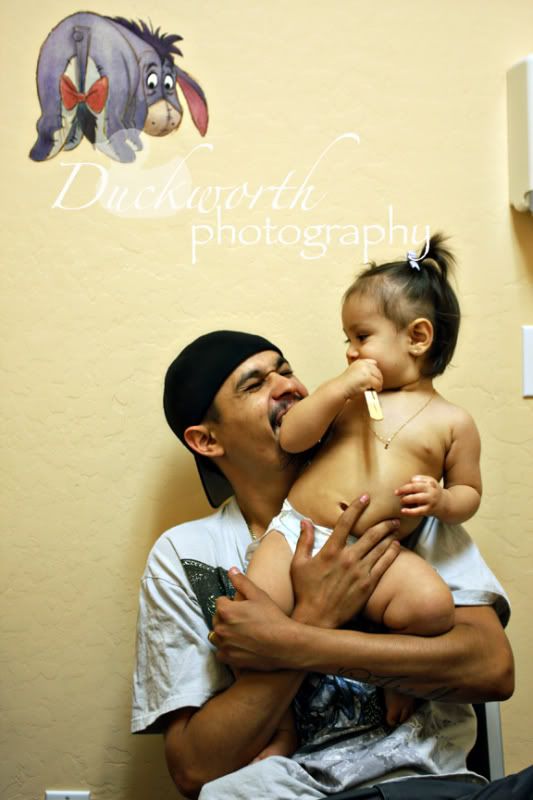 Today was Arielle's 1 yr check-up. Good thing it landed on a Monday because Jr was off and that meant he could go with me. That makes me happy because I knew she was due for shots and I hate being the one to hold them when they get them. I feel bad. Plus I can't look at the needles.
She was so happy playing with Junior before her exam. The Dr. gave her a stick to chew on.
She weighed in at 21lbs 8oz. and was 30 1/2 inches long! She's at normal for age but the Dr said she's getting long. I think maybe she will be taller than me!
Then we had a great time spinning in the chair until the nurse came back to do her shots. I couldn't look as they poked her 4 times. Then the nurse messed the first one up and had to redo it which ended up making 5 pokes altogether. Junior was NOT very happy with that nurse for making his daughter cry extra. (She was new we found out later)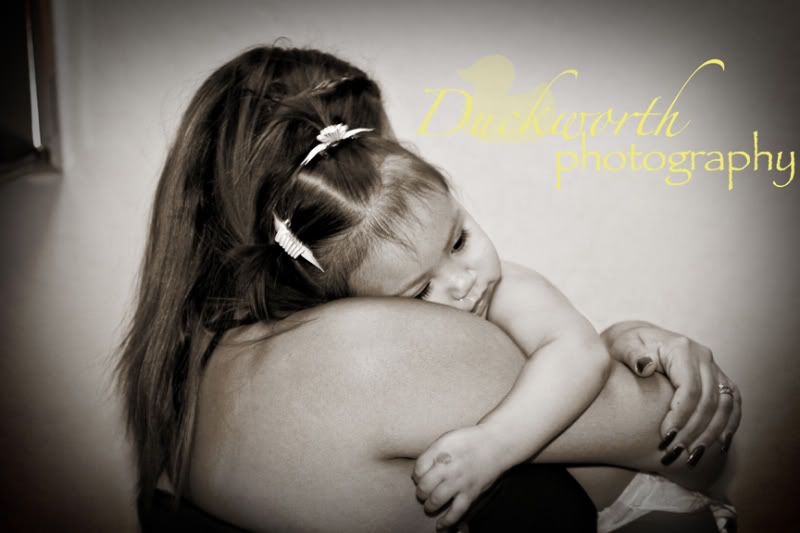 So Mommy had to console her for a while... my poor little girl!
But then they gave her a lollipop and she was fantastic!
Here's what Arielle is up to now:

~ She wears a size 12-18 months clothes, size 4 shoe (big feet!)

~ Still in size 3 diapers... but just about ready to move to a 4 even though the box says size 3 goes up to 28lbs.

~ She has 4 teeth (finally) and another on the way that I can see.

~ I tell her to open her mouth and say "Ahh" and she does it to show me her teeth!

~ Her favorite foods are noodles (she fits right in with us), cheerios, and crackers.

~ She looooves Milk.

~ She can say: Dada, Daddy, Dad, Thank You, Hi, and her newest... Cheese! (She MUST be my kid!)

~ When she eats she says "Umm" everytime you put a spoonful in her mouth.

~ She's learning to eat alone but won't use a fork or spoon.

~ She HATES sippy cups... and refuses to use them. But I took the bottle away yesterday and she successfully used her cup for the first time.

~ She blows kisses by saying "Muah"

~ She still won't walk without the help of a wall or couch... but at least now she lets herself go and stands up on her own. (Brat)

~ If she's not in bed by 8pm she gets so fussy! And as soon as her body touches her brib all is well and she's out.

~ She loves to be barefoot.

It amazes me how different she if from Diego and Alayna!