Sunday I woke up dead tired. I was supposed to have gone shopping with the res of the girls to the alleys but since Jr had my wallet (or so I thought) I didn't go. He went with my Dad and brother-in-law to the Fabulous Fords Forever car show which is the whole reason why we were in California in the first place. But regardless, I woke up really weak and dizzy... most likely from lack of sleep the past few days since Arielle completely gave us a hard time every night and woke up bright and early. My body was physically exhasted and I couldn't take it.
But after a few hours I got up and the girls and I along with my cousin Rebecca and my brother and nephew Juanito ventured out alone to go have some tacos for lunch at our favorite taco spot. We go there EVERY time we go to Califonia and on this trip we had eaten there already 6 times. Yup it's that good.
After lunch we went to the Mall to walk around for a while. I shopped in the Disney store and got my kids some sunglasses for the summer. Alayna scored some flip flops too and Arielle got a towel and sippy cup from her Nina.
The rest of the day was spent napping and lounging around...
~*~*~*~*~*~*~*~*~*~*~*~*~*~*~*~*~*~*~*~*~*~*~*~*~*~*~*~*~*~*~*~*~*~*~*~*~*~
Monday:
7:05am - Jr sripped me of my blankets and told me to wake up because we are headed home at 8:00.
7:30am - I am still laying down... but Jr and Diego have showered already. But it's kinds chilly out so we forego showering the girls and I just clean them up and dress them.
8:00am - We're supposed to be out by now... my aunt already left... I am barely showering but we're loaded up at least.
9:24am - We left! Gasing up at the gas station before we head on out. And Jr bought me a Cherry Coke without even asking for it...
9:39am - Okay... officially on the freeway... ::On the road again, feels good to be on the road again::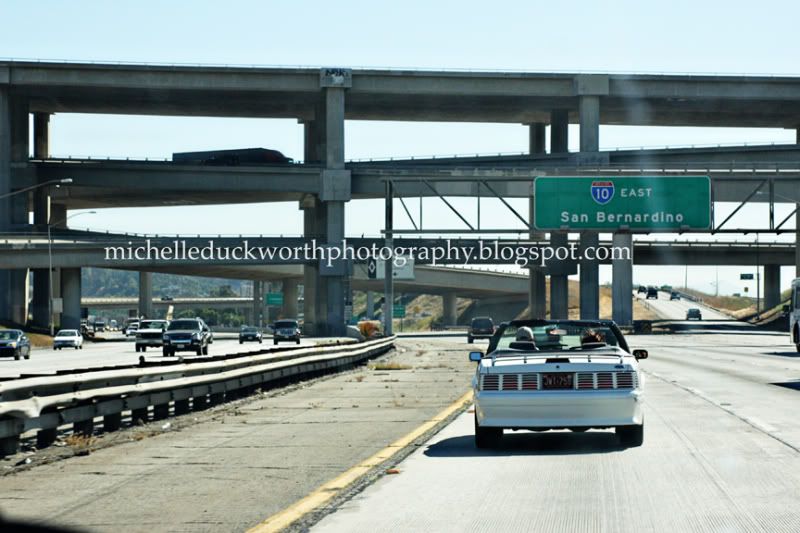 10:13am - First stop... breakfast at Gus Jr's
11:08am - In the car... breakfast was great. Full stomachs, empty bladders, and on our way. So far so good.
12:17pm - In Palm Springs for a little detour... man was in hard going up the steep hill to visit the Aerial Tramway. I swear I am deinitely out of shape. Almost paid $7 for a freakin Oange Juice... but didn't. Took a few pictures and now we're off again. I am riding in the Mustag with my Daddy now and my Mom took my place in the van.
12:30pm - Made it down the mountain wit no problems... stopping to check liquids in car... buying drinks. And now Jr is in the Mustang with me while my parents are in the van with the brats.
12:40pm - Okay restroom stop number two. Good thing we didn't leave Palm Springs yet... Alayna had to pee. WE WE'RE JUST AT A GAS STATION! So now we're at McDonalds peeing.
2:00pm - Nice little nap and now we're in Chiraco Summit. Just had some Ice Cream... bathroom break number 3... and channged Miss Arielle. I was soaked from the sweat and I am exhausted from the heat. No air means we have the wiondows rolled down and no back window means we have direct sulight on our bodies. Oy... I am tired. The sun really beats you up!
2:45pm - Back on the road.
4:48pm - We just stopped in Quartzsite to gas up again. Ate lunch at Chester's Chicken/Subway... bought the kids some snacks. Rested, hydrated, Oh yes... I napped again on the way in so I cooled off from all the sweat... (boy I probably smell really bad by now, good thing I showered before we left)... and bathroom break number 4. Drinking lots and lots of water...
5:00pm - Jr told me to get my screen out of the sun... LOL Uh okay! Blogging on road trips is fun.
5:20pm - Jr just got pulled over... long story short tailgaiting too close to my Mom and Dad.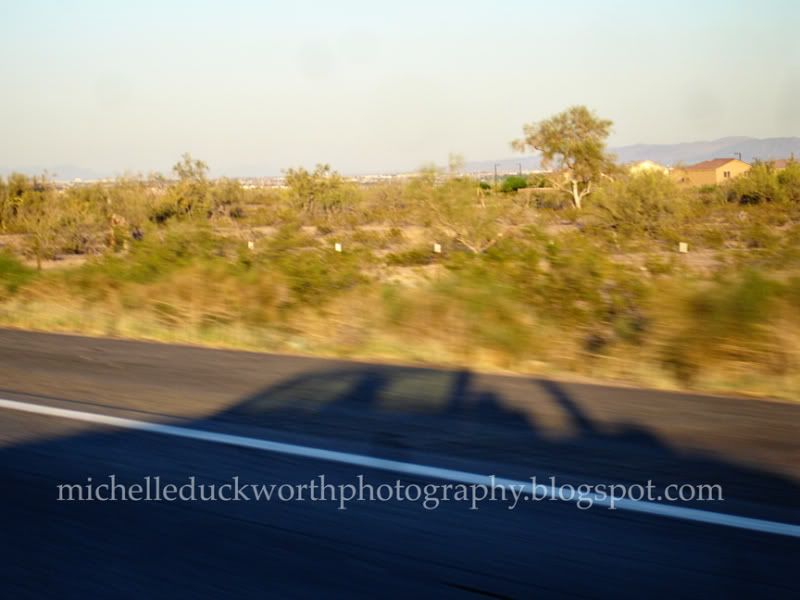 5:54pm - Back on the road Dad is driving the 'Stang and it's a straight shot home...
6:45pm - Finally home!!! Yay!