I can't believe the little sucker finally decided to come out! he's had a loose tooth for about a month now and he wouldn't get it out. It's been there so long in fact the other tooth started growing right behind it already. And now he has another loose tooth (2nd) and I think that tooth is trying to grow in too.
Last night he was messing with it while watching TV and it just popped right out! We were at my Mom's house so they came running out of the room screaming that he lost his tooth! I immediately got my camera and while Jr made him rinse out his bloody mouth. Jr also tried talking him into pulling out the other one but Diego wasn't having it.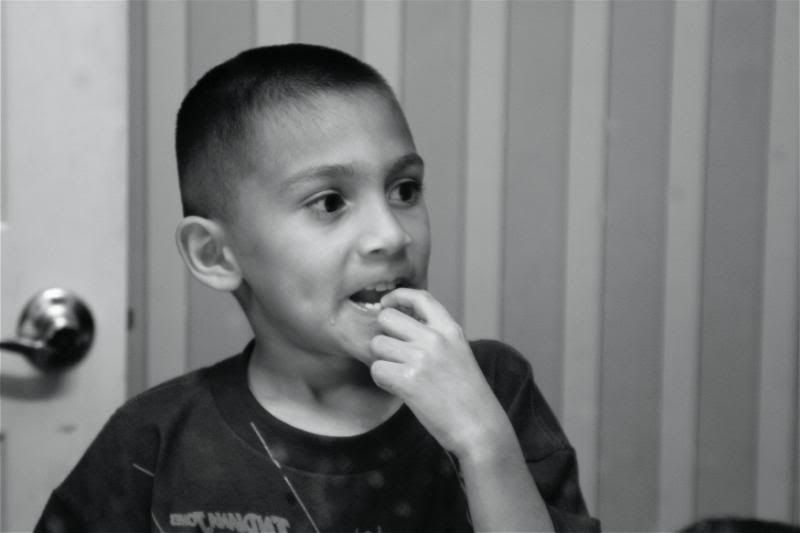 So after all the tooth excitement he put it in a ziplock baggie and as soon as we got home he immediately put it under his pillow. Then he showered and went right to bed! Which was a relief to me because he asked just about a million questions about the Tooth Fairy. And so I had to make up some answers quick!
"What does the Tooth Fairy look like in real life?"
"Have you ever seen her?"
"What does she do with all the teeth she collects?"
"Does she come right away or does it take her a few nights?"
"How does get in our house.... does she borrow Santa's key?"
But luckily he was pleased with my answers.
And after he went to bed the Tooth Fairy left him $2 in nickels, dimes, and quarters... because the Fairy was a little broke and wasn't carrying cash! But no worries! Diego was up at 6:45am (so not like him... he sleeps the latest) and woke me up carrying his ziplock baggie full of change.
And he was happy!