Christmas morning we got up and went to see our Goddaughter Arianna. She's so cute.
And her and Arielle like to hug goodbye
Afterwards we went to my Mother-in-law's for a while. Watched a movie. Okay well, I slept, but everyone else watched the movie.
And then the kids went outside and got to ride on the quad that my brother-in-law Luis bought for his son Anthony.
Alayna loved riding with her Nino
Diego was proud cuz he could drive it alone
Arie got a turn with Daddy
She is just the happiest kid... even with her Chucky smile...
And Duck learned to ride alone too!
And after all that fun we met back with my family and my Papa's house. And he brought out all his millions of hats and we had fun trying them on. Fun times!
The Guys: Edgar, Daddy, Papa, Mario, Raul, Diego, and Jr
My Boys <3
The Twinkies, Matthew, and Diego
The Girls: Rebecca, Alexis, Kika, Me, Arielle, Jessica, Cecy, Paula, Alayna... Oh and Mario in the back!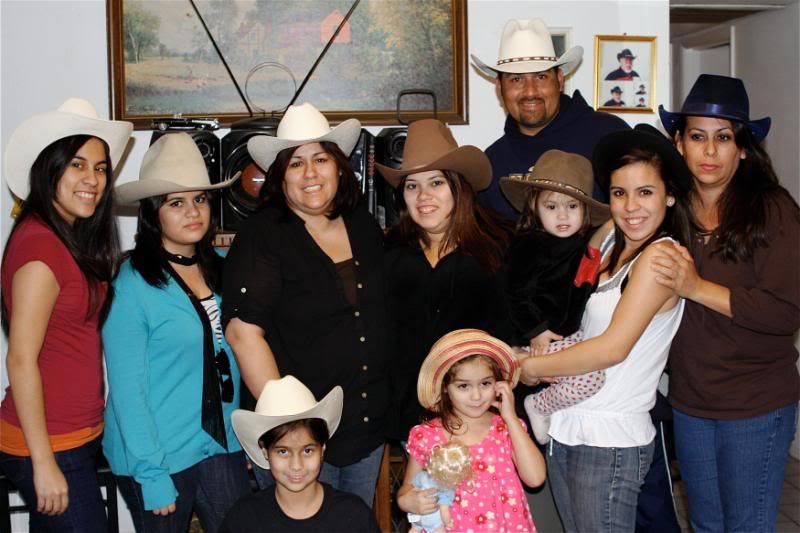 Then we put Papa in women's hats... he was a great sport! LOL
And my uncle Mario fell in love with Diego. He asked me if he could adopt him and take him back to L.A. with him. Diego was SO ready to go! Haha!