Christmas Eve was particularly hard for me. It was hard watching everyone open the presents that my Mom picked out and wrapped herself. She got everyone just what they wanted. Nothing huge... but something we wanted. Somehow these gifts mean so much more to me than they would have.
My Mom was so looking forward to it. Every since I was a little kid I remember her not really liking Christmas. Once I got older I asked her why. She said she wasn't sure but she attributed it to the fact that her Mom (who she lost when she was 24) always LOVED Christmas. It was her favorite holiday. And when my Mom was little she had the best memories from Christmas. And after she lost her Mom it wasn't the same anymore. She tried for us... but I always knew it wasn't as exciting for her... and I can remember this since the time I was about 6 or so. And it wasn't until about a year or so after I had Diego that she finally slowly stared liking Christmas again.
And this year she was full of Christmas spirit! So I am determined to not let this time of year be a sad time... but happy. She wanted a real Christmas tree this year so Jr went out and bought one yesterday for my Dad and set it up. And Rebecca and I strung it with lights and a beaded garland around it. And today the kids got to decorate it. And we tracked down an Angel for the top. My Mom is now our Christmas Angel. All we've ever owned was a star and now we'll have an Angel for her tree. And she would have loved her tree. It's beautiful.
Nevertheless it was a nice night spent at my aunt's house for dinner until past midnight. And then back to my Mom's house (like every year) for more presents until about 3am.
My Abuelita and Me
My girls in front of Jamma's tree once we got back home
Diego in front of Jamma's tree
Arielle and her Nina... she loved spending time with her since she only sees her a few times a year.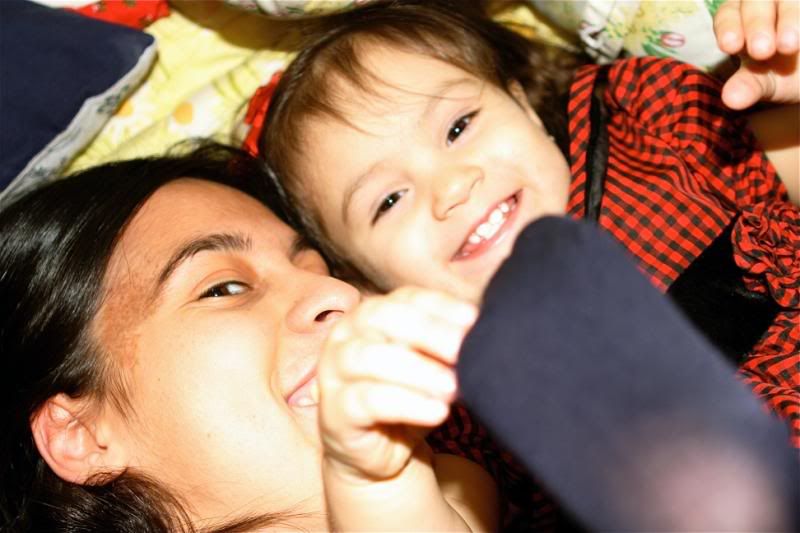 Decorating Jamma's tree at 1am!
(I put up my Mom's favorite ornament for fear the kids might break it)
My Daddy and Sister
Then Juan helped Diego put the Angel up on the tree
Dogpile on Grandpa... he loves his grandkids!
Arielle LOVES the toy that Jamma picked out for her... I know she was smiling up there watching Arielle open it.
And me and Daddy at the end of our long night...