So after the baseball game yesterday my nephew Noe came to spend the night with us at our house. I made pizza, cheese sticks, and salad for dinner and the kids were so excited about it. After we put the baby to bed and cleaned up the kitchen I popped some popcorn and Jr and I told the kids we were gonna have movie night! We watched "Race to Witch Mountain" which was a very cute movie with a lot of action. Alayna fell asleep right away. Diego knocked out a little more than halfway through... but Noe was a trooper and watched the whole thing. Once it was over we put them all to bed and Jr and I watched "The Unborn". It was an okay movie. I LOVE horror movies and none have really made me love them lately.
Well the next morning the kids woke up and after breakfast they decided to play Chutes and Ladders. I couldn't help but take some pictures! They were so cute!
The Princess awaiting her turn...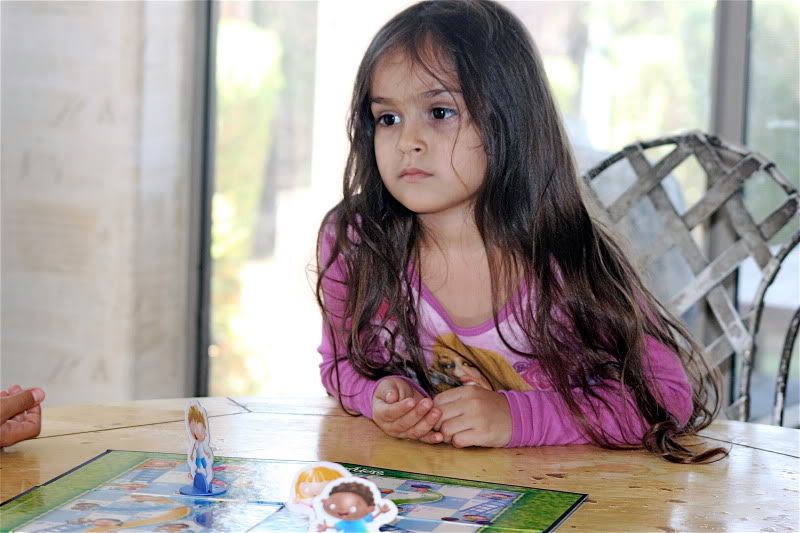 Diego taking his turn...
Noe got mad cuz he wasn't winning... and therefore wouldn't take his turn.
So Alayna decided to go instead...
Which sent Noe into a crying fit... and I had to make him chill out and understand that the game wasn't EVEN over yet! And that in fact, they had JUST started!
But Alayna was happy because the put her ahead of both boys!
But by the end of the game... Diego ended up the winner!
And Noe wasn't happy about that at all... and he tried forver to explain to me that Diego cheated and that he's NEVER playing with Diego again because he cheats! LOL!
You win some... and you lose some...
Oh well... there's always next time!