There is this dog who for the past week has been sleeping on the stairs by our back gate leading to the lake. Alayna was the first to notice her... and so I asked Jr if our neighbors had a pit bull. He wasn't sure but the dog continued to lay there. Even last night when we took the kids walking to the park... he was laying right there and never moved.
So when I got up today I looked for her. I walked out to the back gate and she was there... but as soon as I got close to the gate she took off running scared. That's when I noticed she was limping. And I noticed that she A.) Just had some puppies or B.) Was pregnant... because she had like little boobies. So again, I call Jr (I guess I consider him the expert since he's only owned pit bulls) and I told him the dog was hurt or pregnant or something. I was kinda worried about her. He said he'd try to check her out when he got home if she was still hanging around.
So later I hear my doorbell. A lady from across the street behind us (we can see her front yard from our backyard) was at the door. She asked me if I noticed the dog out there. I explained to her that I had but it wasn't ours. She told me that it had been in our neighborhood for 3 weeks already. And from what they saw she was harmless and very very afraid of people. The lady also said she'd been trying to catch her so she could take her somewhere where they could help her. The lady's neighbor,we'll call her Sue for the sake of my story, had finally gotten the dog to go to her one day and she got it in her car. Sue took her to the humane society but there were completely full and wouldn't take her. But they were nice enough to scan the dog. Well the dog didn't have a chip so obviously they couldn't say who she belonged to... but judging by the fact that she was terrified of people... her owners must have only had her to breed. So Sue went home and called her husband to see if they could keep her... but as soon as he heard it was a pit bull he said "No Way!" and she had to drop off her back off at the lake behind my house. The poor dog still frightened. So the lady at my door said that she felt really bad and all she wanted to do was try and catch her, contain her, and call someone who could take her away where she could be safe.
After the lady left I felt soooo bad for said dog... who I decided to call Darla. I know what you're thinking... who names a stray dog right?! Well call me crazy but that's her name. Great way to get attached. Bad idea. So I filled up a big bowl of water and went out to the back gate to look for her. And there she was laying on my stairs again. But as soon as I got close she shot up and darting across the street as fast as she could. I opened the gate and set out a big bowl of water and some hot dogs. I couldn't stand to know that this doggie might be hungry... and it's so hot out that I had to do something.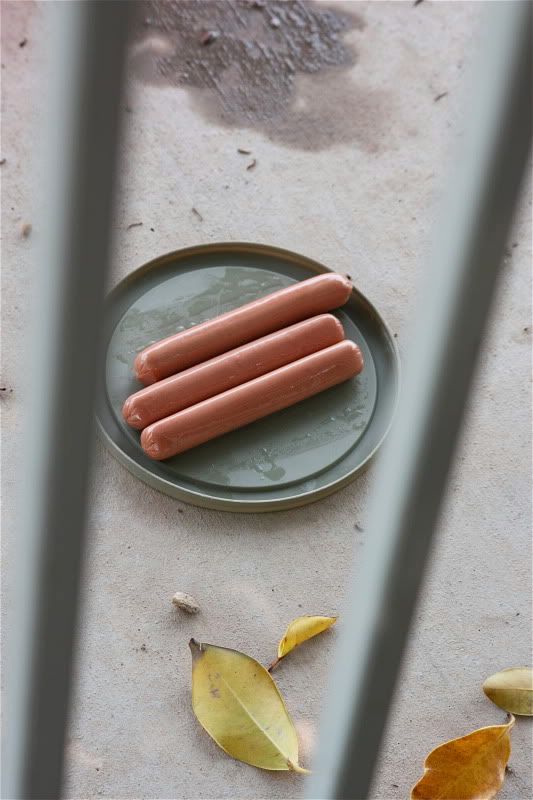 All day long I caught myself wandering to the back door looking to see if she'd returned and found her goodies. And a few hours later I spotted her walking back towards my house. I hid behind a bush in my backyard with my long lens and took some pictures of her.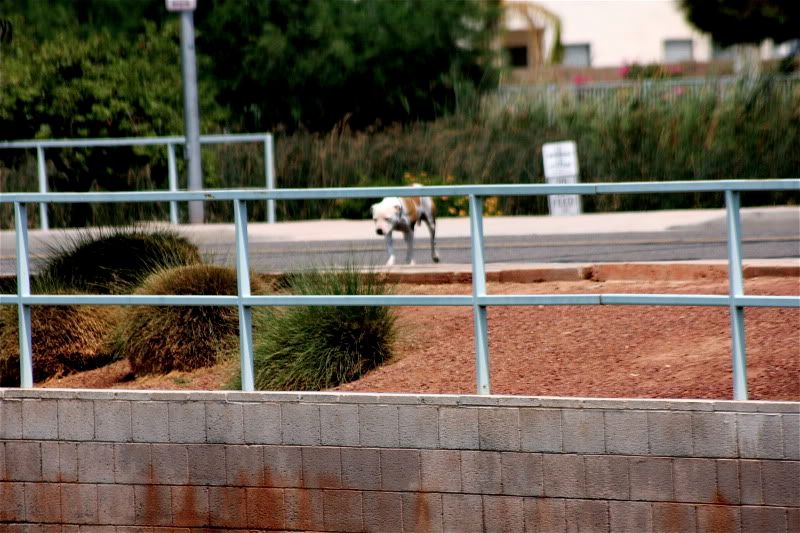 She ended up back at our gate and found her food and water. I could kick myself for not taking pictures of her eating... but I didn't want to blow my cover and scare her away again. So I waited until she fell asleep and snapped a few shots of her before heading back inside.
A little while later I noticed an additional bowl outside with some dog food in it. The lady had brought it over. That was nice of her considering she had no dog... she had to have gone a bought some at the store. (She's renting the house so she's not allowed to have any pets.)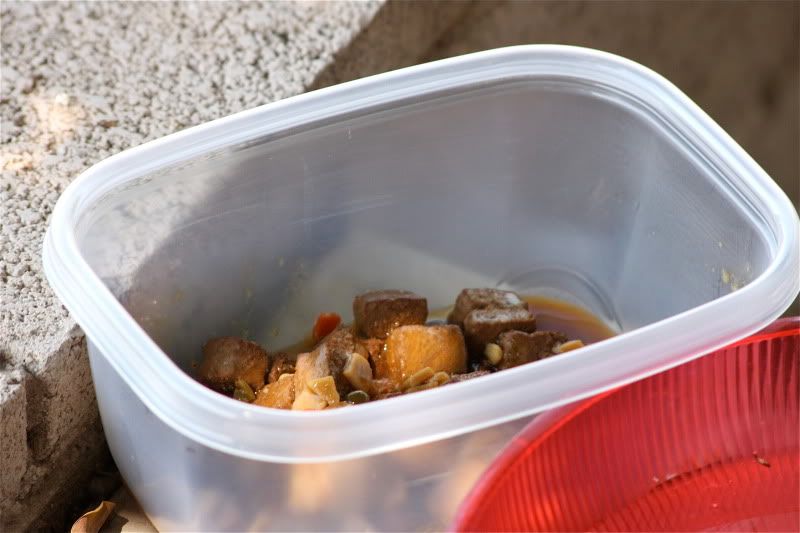 Jr came home and immediately went to look for Darla. She was across the lake on the other side in the water cooling off.
So Jr walked around and once Darla saw him... she took off running. Jr was hot on her trail until Darla jumped in the lake and swam across. She had him beat. He ended up chasing her for about 45 minutes until he finally lost her. And he got in the van and drove around looking for her. But nothing.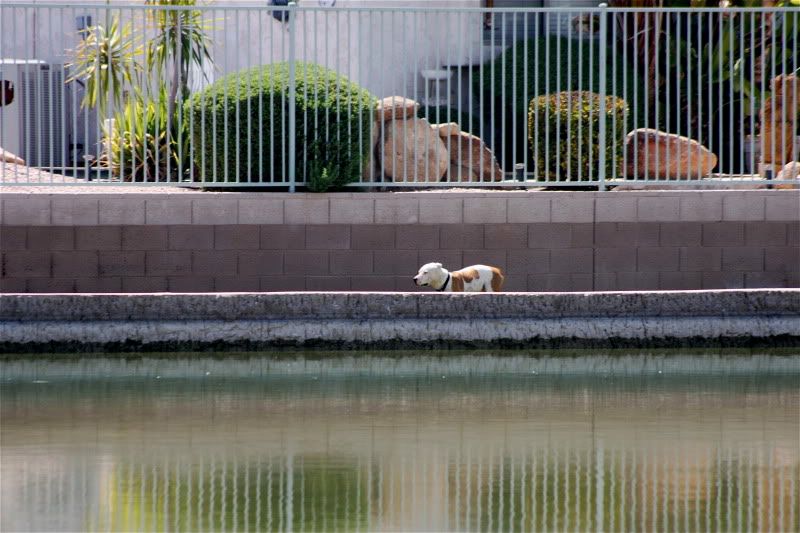 So now we haven't seen Darla since. We don't know what happened to her. And I am sad. All we wanted to do was get her somewhere safe where they could maybe adopt her out. Hopefully she comes back soon.