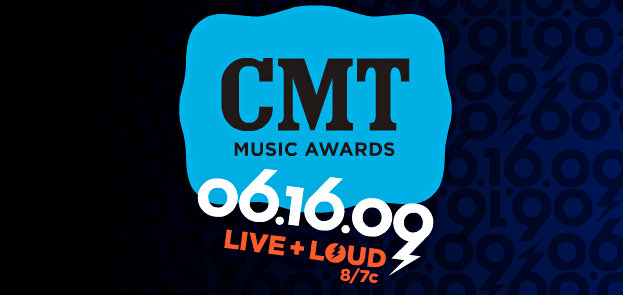 The CMT Awards are tonight and I plan on watching it with my favorite man... Brad. Paisley that is. I am really looking forward to it. I know I am Latina but I think I should have been a country girl... because I love country so much. Sure I married a Mexican... and we all know Latin men have the sexiest accents, nice hair, and not too bad to look at... but who can pass up a man in blue jeans, a cowboy hat, and boots... who's not afraid to get a little dirty and truly knows how to treat a woman. Yup that's my kind of man!
I'll be back later to give my thought about the show.
- - - - - - - - - - - - - - - - - - - - - - - - - - - - - - - - - - - - - - - - - - - - - - - - - - - - - - - -

SPOILER ALERT!
Here are my thoughts as I watch the show... LIVE!
The inrto with Taylor Swift was hilarious! I mean... rapping with T-pain? Like I said... HILARIOUS! My husband didn't find the humor in it, but then again he's lame.
Dierks opens up... and he was good. Not who I would have opened it up with... but whatev.
Kellie Pickler still uses her little blonde act... but I can't help but like her. And she looked pretty!
Breakthrough Video:
My Guess - Lady Antebellum
... and I was wrong! It was Zac Brown Band with "Chicken Fried"
It's good to see Joey & Rory out there in the Country Music world. I like them! They are certainly cute!
Isn't it funny that so many people are crossing over into country music? As I sit here and listen to Darius Rucker who used to be in Hootie and the Blowfish sing... I thought about it. I mean we've got Kid Rock, Bon Jovi, Jessica Simpson, and Julianne Hough... ballroom dancer to country singer. Just makes me laugh. But it makes me appreciate all that they bring to country music. Everyone adds a little different something.
Speaking of Julianne... there she is presenting. She looks like a little cupcake!
Duo Video of the Year:
My Guess - Sugarland... since they got a 50/50 chance... haha!
... and I was Right! They won for "All I Wanna Do"... but were also nominated for "Already Gone"
I love me some Sugarland!
Lady Antebellum performs: And good as usual.
Brad Paisley performs! Oh my favorite song! "I thought I loved You Then" Best song ever! And his guitar is so pretty! It's paisley! Get it... get it! Bwahahah... pretty neat! His songs always make me cry! He's up for Video of the Year for "Waitin' On A Woman" which BTW Jr has dedicated to me. Speaking of dedications... the only other song that Jr has ever dedicated to me was ALSO a Brad Paisley song called "She's Everything". That must mean we really like him.
P.S. Jr just told me to go sleep on the couch cuz I said if he was Brad Paisley I'd like him more. Then he said I like Brad Paisley more than him and I agreed.
How funny is it to see T-Pain and Toby Keith presenting together? Haha.
Wide Open Country Video of the Year: (See what I mean about such diverse people in country)
Nominees: Def Leppard & Taylor Swift "Photograph", Kid Rock "All Summer Long", Rehab ft Hank Williams Jr. "Bartender Song", and Robert Plant & Alison Krauss "Please Read The Letter"
My Guess - Kid Rock (Speaking of Kid Rock... he's with Sheryl Crow... is he really? WTF?)
...and Michelle goes 2 for 3!
After commericials Taylor Swift performs... "You Belong With Me". As we all know I am a huge fan! There's just something about her that I love.. and all her songs are super catchy! But she proves time and time again that she cannot sing live. Love the song but very poor and shakey performance. She had her moments though. She's adorable.
Group Video of the Year:
My Guess: Rascal Flatts have a 50/50 chance... nominated for "Bob that Head" and "Everyday"... and I looooove me some Rascal Flatts so my vote goes to them.
... and the buckle goes to... surprise surprise... Rascal Flatts!
Carter Twins... never really listened to them. They're cute. They're twins. They sing. Oh good... commercial.
Keith Urban performs! I love Keith! "Sweet Thing" isn't my favorite song ever... but good enough. I love his voice.
I just suggested to Jr that he should grow his hair out and I could put him in a cowboy hat, jeans, boots, and a tight button-up shirt. Oh and he could ride a horse. He said I didn't marry a cowboy... I married a homeboy! Bwahaha... he cracks me up! I told him he has some white in him... it's not too late to bring it out.
CMT Performance of the Year:
My Guess - Sugarland ft Jake Owen and Little Big Town "Life In A Northern Town"
WRONG! (Okay I had a feeling it wasn't them... but I just love that song) Alan Jackson, Dierks Bently, Brad Paisley "Country Boy"
Female Video of Year:
Kellie Pickler... Martina McBride... Miranda Lambert... Taylor Swift
My guess - My guess is Taylor Swift and as much as I like her... I think that it should go to Miranda Lambert only because I LOVE the song "More Like Her"... such a pretty song!
But I was right... Taylor Swift.
WTF? Sugarland is singing Love Shack! DOUBLE WTF?!?! The B-52's... Haha!!! The CMTs never cease to amaze me.
Trace Atkins performs "You're Gonna Miss This". Now there's a voice! And he looks teary-eyed.
Collaborative Video of the Year:
My Guess - Brad Paisley & Keith Urban "Start A Band"... But Kenny Chesney is my love.
... and they win! Hotness.
Rascal Flatts performs "Summer Night". I don't care for the song... but whatev.
Kellie Pickler performs "Best Days of Your Life"... and I like that song. (I like many songs... obviously) Did you know Taylor Swift co-wrote the song with her? Yup. Just a little factoid for ya.
Male Video of the Year:
Nominees: Brad Paisley, Keith Urban, Toby Keith, Trace Atkins
My Guess - I love Brad Paisley's video for "Waitin' On A Woman" not to mention that is one of the aformentioned songs that Jr dedicated to me. And Andy Griffith is in the video... great great video! So that's my guess EVEN though Trace Atkins "You're Gonna Miss This" is a really good song too!
Jason Aldean performs! "She's Country" And Keith Urban joins him! Awesomeness! Now I sit here rocking out... hope I don't wake Jr who has now fallen asleep... and if I do OH WELL. Seriously how can you not be attracted to all these great singers with cowboy hats?!
Did the host just say one more buckle to go? Aww man that means it's almost over!
Melissa Peterman the host of the new CMT show "The Singing Bee" is so funny! Her karaoke was funny. Then she goes and kisses Dierks. Funny Stuff.
Toby Keith performs "God Love Her" another great song by another great man!
Now ::drumroll please:: Video of the Year:
Nominees: Brad Paisley, Carrie Underwood, Sugarland, Taylor Swift, and Trace Atkins
My Guess - My, my, my... Holy Cow how do I choose. Again I say Taylor will be taking this one... but I think Brad deserves it or even Carrie.
...And I am right again! Man Michelle is the award show queen. I usually can get every awards right... How many did I miss... one?
Oh man Taylor Swift is way too excited. She's cheesy.
The host is cheesy funny. His jokes are funny in a not funny sort of way.
And there's Taylor again singing with Def Leppard now. She's sooooo NOT good live! Someone needs to teach her how to control her voice on stage and while she's dancing.
All in all... a Fantastical show! But I ALWAYS enjoy this show. Goodnight!